New International airport | Single-Visa | E-Visa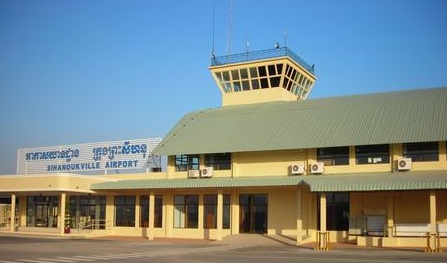 Cambodia's seaside airport - the new international airport
The Tourism Information Board of the Royal Embassy of Cambodia annouced that the Cambodian government had approved plans for an international airport in the coastal city of Sihanoukville. The initiative is being undertaken as part of plans to further propel Cambodian tourism.
Like other of Cambodia's smaller airports that were once part of an extensive domestic network, the facility in Sihanoukville, 230 kilometers southwest of Phnom Penh, is closed. The government hopes to reopen it to domestic flights by the end of the year and later introduce international routes. Soy Sokhan, an official with the state for civil aviation, shared that the rebuilt airport would facilitate direct flights from neighboring countries, allowing visitors to head for the country's beaches and have a quick link to the Angkor temple town of Siem Reap. There are also plans to reopen the airport in the northeastern town of Kratie, near a stretch of the Mekong river home to endangered Irrawaddy dolphins that Cambodia hopes to preserve as a tourist attraction.
Single-visa
Regarding visas among the 10-member Association of Southeast Asian Nations, Cambodian Tourism Minister Lay Prahas said that the nations have been cooperating to end visa requirements for their citizens while traveling among member nations.
Single-visa plan for visitors to Thailand and Cambodia:
The Bangkok Post newspaper reported recently Thailand's signing of an agreement with Cambodia under which foreign tourists will be able to visit both countries on just a single visa.
The agreement was worked out under the framework of the Ayeyawaddy Mekong-Chao Phraya Economic Cooperation (Acmecs) accord, which also includes Burma, Laos and Vietnam. Thailand and Cambodia are the first two Acmecs member countries to strike such an agreement, which would boost tourism. The deal would allow foreign visitors to obtain a visa to visit either Thailand or Cambodia and then travel in both countries without having to get another visa. However, thisl would take effect only after agencies such as the interior ministries of the two countries had issued the appropriate regulations.
(Note: Right now, Thai citizens still have to apply for a visa before travelling to Burma and Cambodia, although the two nations are members of the Association of Southeast Asian Nations (Asean) which has agreed visa applications are not needed within member states.)
E-visa
In another development, Cambodia has decided to offer visas on the Internet for tourist's convenience. Foreigners wishing to visit Cambodia can now apply for visas on the Internet and do not have to visit a Cambodian Embassy or visa office. (
click here
to learn more.)
---
More of our useful articles: