When mentioning Laos, many travellers think of wildlife, trekking or mountain biking. But if you only have one or two days and feel like taking a break from other hectic Southeast Asian tourism destinations, a visit to Vientiane, the centuries-old Capital of Laos, can be quite charming and relaxed.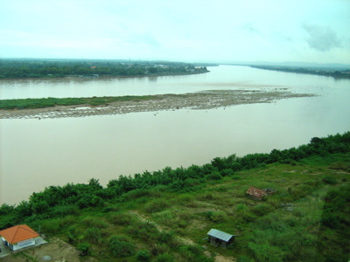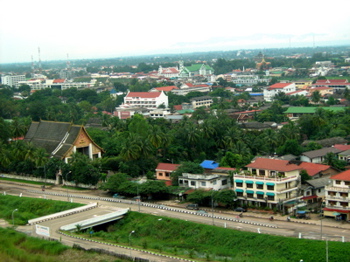 There is not much chance of overcrowding in Vientiane. Vietntiane has a population of 450,000. As a landlocked country, the Mekong River and continues to play an important role in Laotians lives.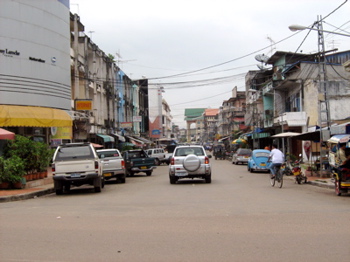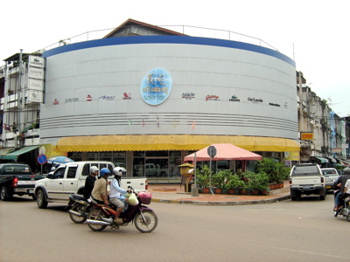 There are many ways to access Laos. Besides Vientiane's Wattay International Airport, which is two miles (3 km) from Vientiane, there are bridges and roads from Thailand and Vietnam that are quite convenient. The Friendship Bridge, which links Nong Khai of Thailand to east of Vientiane on the other side of the Mekong, and the opening of the Friendship Bridge II linking Mukdahan province in Thailand and Savannakhet have encouraged more Thais to visit Laos as well as travel farther to Vietnam. Thais were the largest group of visitors to Laos with 675,845 visitors in 2006, accounting for 55% of total arrivals. Laos has 18 international immigration points with Thailand, Vietnam, China and Cambodia, 13 of which offer visas on arrival. Citizens from eight Asean countries along with Japan and Russia are exempt from visa requirements.
Laos Tourism



Tourism was the second largest contributor, after mining, to Laos's GDP. Laos expects tourism to be the top contributor to its economic growth and is focusing on promoting eco-tourism to international markets. Laos recorded 1.2 million tourist arrivals that generated US$173 million for the country and projects 1.3 million arrivals with $190 million generated from tourism in 2007. In 2007, Laos welcomed 420,000 visitors, up 30% year-on-year. It projects two million visitors with $290 million revenue in 2010. The government has made tourism development, with the focus on ecotourism, one of 11 priority sectors to help improve standards of living - a way of generating income for local people, raising awareness about environmental conservation, encouraging local production and protecting Lao's multiethnic culture and traditions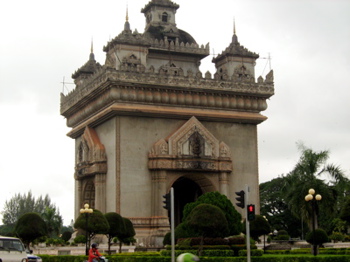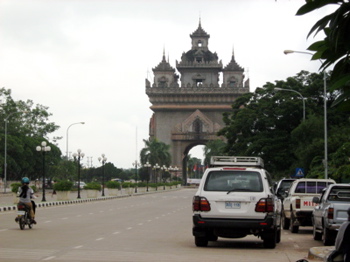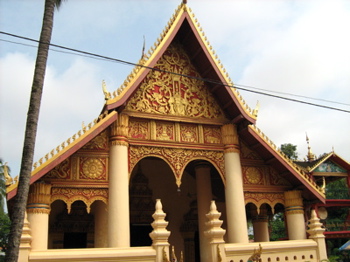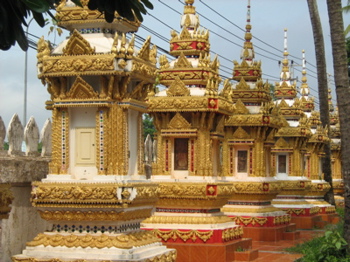 Compared to the neighboring Thailand and Vietnam, Laos receives less tourists due to the limited number of paved roads to go around the country. The Pratuxai monument (pictures above) is one of Vientiane's must-see list. Others are Luang (Royal Stupa) and Ho Prakeo which was once the temple of Laos' royal family.
Travel to Laos has been very safe and the costs are cheap. The food is tasty and the native people positively charming.
For a business visit, Lao International Trade Exhibition and Convention Centre, better known as Lao ITECC, is the equivalent of Thailand's BITEC and IMPACT Exhibition Halls. With its 30,000 square metres of space for trade fair and other activities, it is an important venue for business in Laos.
French Influence
The road that leads to Pratuxai, Vientiane's most prominent landmark, which looks like Paris's Arc de Triomphe is wide and spacious. However, the details both of the monument and buildings in general in Vientiane remain distinctively Lao. Old French-colonial buildings can be seen in Vientiane as well.
It is recommended to visit some French/Lao restaurants where you can sip a glass of wine at a fraction of the price in Bangkok; and if sitting outside, enjoy the evening breezes and the generally cleaner air.
If you are not feeling like wine, then Beer Lao and Laos coffee may be exactly what you are looking for.
Picture Story:
For observant travellers, below are some colorfull and interesting scenes you would see in Vientiane, Laos.