Rider University's EMBA Programs 2009
to China and Vietnam: Beijing, Shanghai and Ho Chi Minh City
on May 03 – 13, 2009
Trip arrangement by Runckel & Associates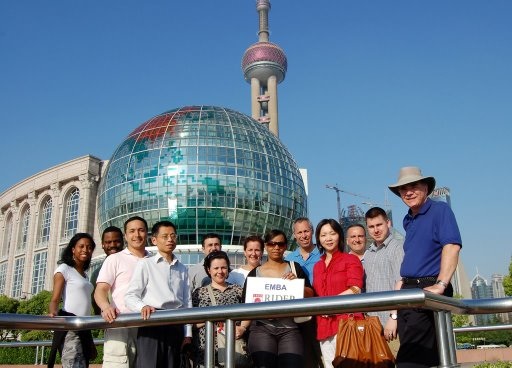 Rider University's EMBA Programs 2009 in Shanghai, China,
led by Dr. Lauren Eder and our first-class and international guide, Tony Yang

Beijing, China


The EMBA group started in Beijing with a full-day of sight seeing to visit Tiannanmen Square, the Forbiden City and the Summer Palace.
(Picture: Rider EMBA Class of 2009 in Tiananmen Square)


Dinner: Peking Duck preparation in Beijing at the famous Quanjude Duck Restaurant.




Musician in Summer Palace, Beijing




The next day, the group visited Haidian District in Beijing and toured Baidu, a leading Chinese technology company. Then, visited Lenovo.

(Picture: Lenovo tour)

(Picture: The group listening to presentation at Lenovo)

The morning tour was followed by a presentation by Jack Perkowski.




EMBA student Frank Glowacki holding a torch from the 2008 Beijing Olympic Games - at Lenovo in Beijing. Lenovo was a major supporter of the games.




Peking Opera show after dinner

.


The group visited the Great Wall at Mutianyu


China guide Tony Yang, Professor Lauren Eder, Scott Eder, Professor Paul Benchener, Professor Jia Shen in Beijing.

(Group Picture at Yu Yuan Garden, Shanghai)


Shanghai, China

The group departed Beijing en route to Shanghai on the next day. In Shanghai, Rider University EMBAs met with J&J, followed by the Chief Operations Officer for PPG. They then visited Shanghai Feng Pu Industrial Park and had a company visit at

Shanghai Shen Li High Tech company, which mainly makes fuel cell power systems. At night, the group visited Xintiandi. Before leaving for the airport to go to Ho Chi Minh City, Vietnam, the group visited the Bund.
(Picture: View of Saigon from Reunification Palace)

Ho Chi Minh City, Vietnam

The group began their first day with sightseeing via cyclo (a bicycle taxi) - visited the Museum, Reunification Palace (formerly the residence of the President of South Vietnam) and Notre Dame Cathedral before going to lunch.

(Picture: Lunch in Ho Chi Minh City - Pho and fresh coconut juice.)


Then, that night had dinner at the Blue Ginger – authentic Vietnamese food in a pleasant and charming setting.





The next day, the group had a full-day of business visits, starting with a Macro-briefing on "Background information on Vietnam: brief history, people, culture, reforms, and other economic policies" by Mr. Bui Van of Financial Business News Channel (FBNC-Vietnam). Then, this was followed with meetings with Pho Pham, IDG Ventures to discuss Vietnam's Economic Outlook and the role of Venture Capital in building Vietnam and Vietnam's business community. Just before lunch, the group listened in on the topic, "Understanding Vietnam's business culture" by speaker Chien Ly Truong and Ralf Matthies of TNS Vietnam – a marketing research organization in Ho Chi Minh City.

After lunch, the topic was "Franchising - The Next Big Thing in Vietnam?" (Franchising is just taking off in Vietnam and new ventures like Pho 24 and others are writing the new rule book for Vietnam on this). This presentation was by Ms. Phi Van Nguyen, Managing Director of Gloria Jean Coffee, Vietnam. Ms. Nguyen is also a co-owner of the company.


(Picture: Lunch at Pho 24)



The group then visited Harvey Nash office - Vietnam's IT Sector and Prospects for Outsourcing.

(Picture: Manufacturer of acrylic awards)


On the last day, the group traveled to Binh Duong Province, a province about an hour and a half from HCMC, for a briefing at Becamex, IDC by Senior Advisor and Head of Marketing, Becamex, IDC, Mr. Vo Son Dien.





(Picture: Beer factory outside Ho Chi Minh City in My Phuoc Industrial Park)





Then, the students visited My Phuoc Industrial Park and toured two of the factories in the park.

The final dinner was at La Taverne – French Food in a Vietnamese style.




One of the Lunches in HCMC





Fresh coconut juice and cold water for sale in Ho Chi Minh City

Rush hour in Ho Chi Minh City.



www.Business-in-Asia.com