Our Programs:

The future of the U.S. and the World lies in Asia. China is now the third largest economy and the fastest growing major economy in the World. It is now well established as the "factory to the World". Vietnam is the second fastest growing economy in Asia and the U.S. is now Vietnam's largest trading partner. Thailand is a regional hub for international business and Japan's largest overseas investment location with some of the best supporting industries anywhere in Asia. Because virtually all Asian countries have young populations and because these younger populations tend to spend more, Asia and an Asian business strategy is something that every company needs to think about and address.

Our study tour is designed for business schools, EMBA students and business executives with a view to provide understanding of Asian business culture, business organization and management in an Asian context. The program offers valuable first-hand experience in Asia with a particular focus on China, Vietnam, Thailand, India or Russia. The study tour will focus on the deeply-held values of Asian culture, how they influence and are reflected in the business decision-making process, needed strategic thinking and the management decision-making styles of different Asian corporations, as well as how foreign businesses can meet the challenges and the continuing need for change and innovation, which is required by emerging Asian economies. We also look at the importance of relationships, both official and business, and how best to encourage your successful entry and growth in an Asian environment

Our team of international business, diplomatic and cultural specialists has a long and rich background in each country in the region. We understand the international issues impacting business today, the culture and contemporary issues businesses need to address and will arrange for lectures, company visits and tours throughout the trip to help executives better understand the challenges and the opportunities that Asia offers. Study tours include the following:



Programs tailor-made for each specific group, budget and training requirement

Balanced and diverse visits to an extensive range of companies and business organizations (privately-owned, state-owned, multinational firms), trade organizations, ports, government investment promotion offices and factories

Meetings with influential and insightful figures in key government agencies, Embassies, trade organizations as well as established business people

Well regarded speakers on contemporary Asia political, diplomatic, economic, business and multinational operations in Asia, with extensive question-and-answer session

Specially arranged cultural visits and tours that include the most important tourist, sightseeing and cultural icons that better help to appreciate and understand the country's civilization with explanations of the locations importance and context from knowledgeable experts

Options for programs for spouses and others to help them better understand and appreciate work and life in a foreign culture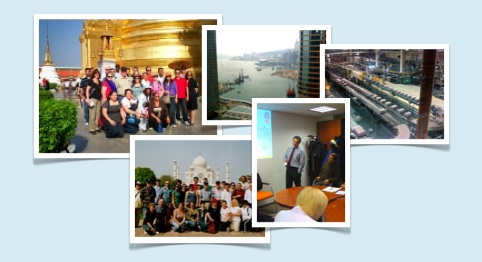 Why we are different?
There are a lot of reasons. Among them:

First, this is not a once a year event for us. We are arranging EMBA trips, trips for companies, business fact-finding trips and incentive business trips nearly monthly and sometimes even weekly throughout the year. Therefore we are constantly dealing with the same group of travel professionals, overseas universities and with business owners and managers throughout the region. This familiarity makes it easier for us to come up with the best program of speakers and that logistically reflects the current situation with hotels, businesses, travel times, etc and often at a better price and comfort level than you would achieve on your own.



Second, we are more than a travel agency. Many of the large groups that support EMBA and larger company trips are travel agents first and foremost. Their understanding of education, Asian business and the evolving Asian business scene is often minimal. They can move you from here to there but what they will do less well is establish a learning environment and build the learning sessions in a way that yields the optimum educational experience for your group.



Third, we are not seeking to be the biggest in this sector but instead the best. We are not seeking volume but quality and satisfaction for both your group and for us that we have met your learning requirements.



Fourth, do you really want to send a lot of money overseas to a travel agent that you have never worked with before and with whom you have had little contact? Dealing with us simplifies everything, we are easily reachable during business hours by phone, fax and e-mail, speak your language and understand your concerns. We also are often traveling for business throughout the world and can often work out convenient meeting times with you to discuss an upcoming visit or even be worked into your training program so as to build interest and allay travel concerns.



Fifth, do you want to really be dealing with multiple service providers – travel agents, bus companies, hotel operators, speakers with reference to speaking gratuities, lecture room rentals, restaurant owners for lunches and dinners, etc. We handle all of this and give you a clear bill that lays out the charges and when payments are due. What we do is allow you time to focus on education and on achieving your goals by handling the administration and logistics.



Lastly, irregardless of whom you are currently working with, no one out there has our capability to handle trips across multiple countries in Asia and arrange all the logistics, speakers and access you require. Whether it be China, Vietnam, Thailand, India or elsewhere in Asia, we can help arrange your trip and do it in a way that brings credit to you and your organization. International work abroad is increasingly something all executives need to have exposure to. We can give you that exposure and make the experience memorable and often at lower cost and much lower stress to all.