Microcredit and Microbusinesses in Vietnam:

The next day after the Mekong Delta visit was a Saturday. We arranged for two excellent guest speakers at Hoa Sen University for the Rider group: one was from the Environmental Development Action in the Third World (ENDA), Mr. Khai, who spoke about his organization and their work throughout Vietnam. ENDA is an international organization with HQ in Senegal, Africa, and has been working on community development projects in Vietnam for over a decade. In co-operation with local Vietnamese government authorities and social associations their mission is to work with poor local communities and disadvantaged groups to address their needs for community-based socio-economic and environmental improvement projects; This organization is making a difference in Vietnam. Another speaker was from
Disabilities Resource and Development(DRD),
Ms. Yen Vo, Director DRD. After the talks, the students from both sides (U.S. and Vietnam) engaged in team and collaboration projects. For lunch, they went out to lunch at a "western" restaurant, such as KFC or Pizza Hut. "It was fun for the US students to have an American fast food meal with the Vietnamese friends, and also to see the localization of these fast food enterprises in Vietnam," said Prof. Eder in her blog. Lastly, the Rider group concluded with a visit to an art gallery/school that supports the work of the hearing impaired.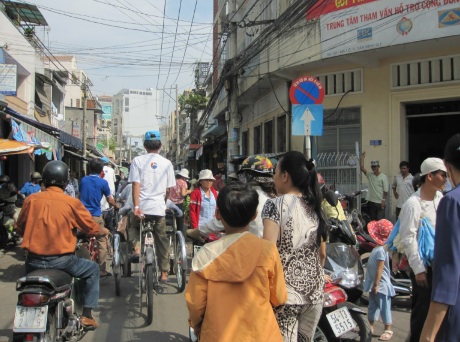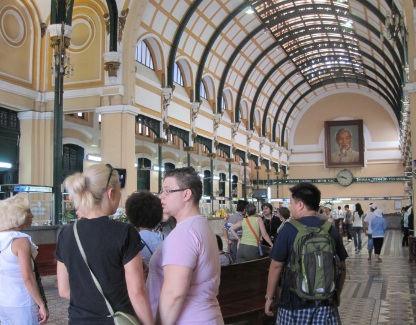 (pictures above) City tour on Sunday.

| | |
| --- | --- |
| | (pictures left) Dr. Lauren Eder gave a presentation at the Access American Education (AAE) office in Ho Chi Minh City. |
Sunday, the group had a free day. We arranged for a short half-day of sight-seeing by cyclo to the Notre Dame Cathedral, the old Post Office, and the Emperor Jade Pagoda. The students took off on their own in the afternoon while Prof. Lauren Eder was invited to give a talk to some families interested in learning more about studying abroad in the U.S. arranged by the Access American Education (AAE)

(

www.AccessAmericanEducationLLC.com

)

. She answered questions and talked about Rider University to the students. Vietnam is one of the fastest developing markets for U.S. eduation and now rates 9th in terms of international students studying in the U.S. Organizations such as AAE are leading the way in professionally introducing U.S. Universities.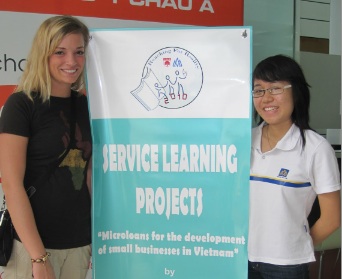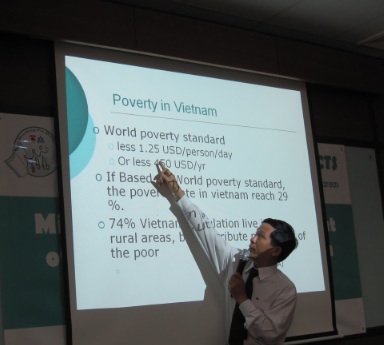 (pictures above and below) At the workshops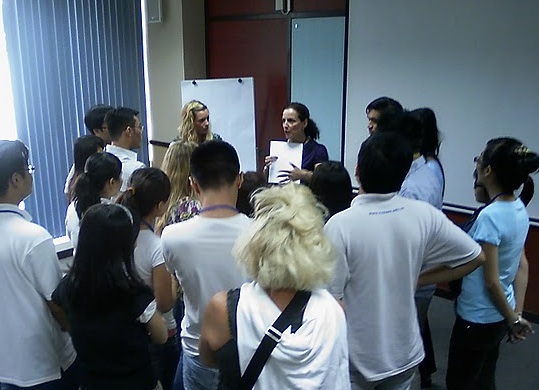 On Monday, the group returned the focus to microfinance, and the group listened to an overview of poverty in Vietnam by Professor Quoc, an HSU professor, who also discussed the value that microcredit can have to Vietnam's poor, estimated at about 29% of the total population and living mainly in the rural areas. Next, Prof. Eder provided a lecture on the foundation of microfinance and microcredit to give a better understanding to everyone in the group and led the workshop. Then, this was followed by an excellent presentation by Co Ba. Co Ba, a Vietnamese social worker, has successfully been managing microcredit projects in Vietnam for 17 years through the support of the Notre Dame Church.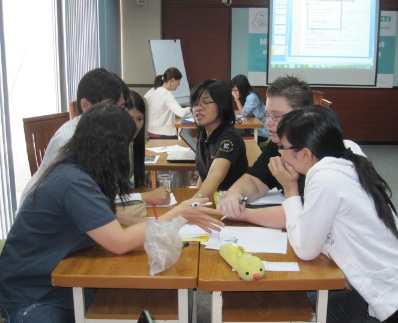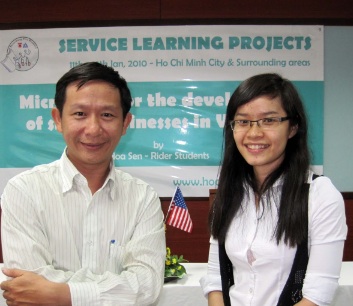 (pictures above) Stuents working together and: right, Professor Quoc and Van Anh (HSU)
The next day, the group began another session at the HSU campus. It was their last day; however, some of the group members had symptoms of food-poisoning, but many recovered and came back to the full program by the afternoon. We've experienced that no matter how much the plan for food and restaurants were carefully planned out ahead of time and no matter the class of restaurants visited, the travellers themselves must be aware at all times of the food they eat - rule of thumb, boiled or grilled, hot food are best - avoid cold, raw and undercooked foods. This day,
Prof. Eder who has vast experience with large U.S. companies introduced the teams to several interactive professional skills activities which are the types of exercises typically conducted in American corporate training programs to engage participants in active learning to improve skills such as negotiating, conflict management, leadership, and intercultural awareness. This introduction was appreciated greatly by the Vietnamese side and was a great
way to round out their learning together. They then gave out certificates which were awarded to all of the participating students and symbolized their good collaborative work together.

At night, the group had a farewell dinner at the Blue Ginger restaurant. "Overall, I think our program was very successful. A lot of great learning took place inside and outside the classroom. Knowledge about different cultures and new friendships blossomed. Greater insight about poverty and meaningful ways to empower people to remove themselves from poverty resulted among students and faculty alike. Finally, the seeds have been planted for the beginning of a new microcredit fund project that everyone can feel proud to have contributed to. The outcomes from the first International Collaborative Service Learning Program at Rider have not only met but exceeded expectations. I believe many of the students from both HSU and Rider would agree!", said Prof. Eder in her last blog.

---
Related Articles on our website:
---
About the Author:
Christopher W. Runckel, a former senior US diplomat who served in many counties in Asia, is a graduate of the University of Oregon and Lewis and Clark Law School. He served as Deputy General Counsel of President Gerald Ford's Presidential Clemency Board. Mr. Runckel is the principal and founder of Runckel & Associates, a Portland, Oregon based consulting company that assists businesses expand business opportunities in Asia. (www.business-in-asia.com)
Until April of 1999, Mr. Runckel was Minister-Counselor of the US Embassy in Beijing, China. Mr. Runckel lived and worked in Thailand for over six years. He was the first permanently assigned U.S. diplomat to return to Vietnam after the Vietnam War. In 1997, he was awarded the U.S. Department of States highest award for service, the Distinguished Honor Award, for his contribution to improving U.S.-Vietnam relations. Mr. Runckel is one of only two non-Ambassadors to receive this award in the 200-year history of the U.S. diplomatic service.