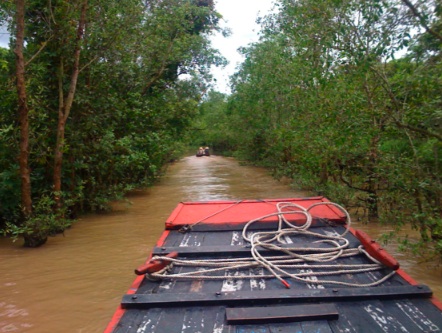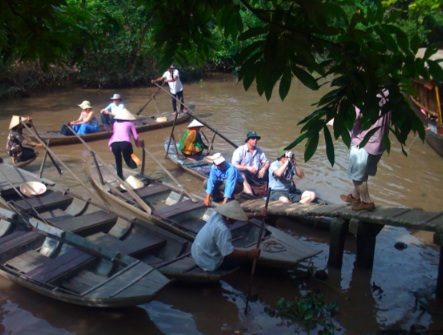 Pictures above: On our way to home stay in Vientam
Vietnam is a long and scenic country, which differs greatly from North to South and East to West and in elevations from coastal white sand beaches to high mountains with scenic vistas. Many westerners would like to see more of this plus also to get off the beaten paths and either hike, mountain bike, trek in four wheel drive or other conveyance or maybe even try a kayak or canoe trip down one of the many rivers.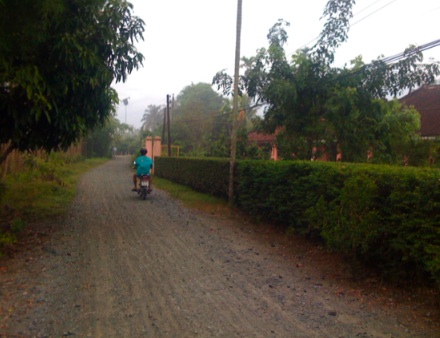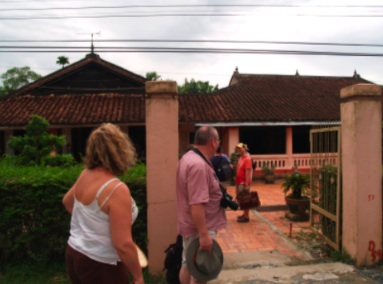 Pictures above: Arriving the home
In the past, Vietnam didn't offer much in the way of housing for those hardy souls who wanted to see more of Vietnam and get a chance to experience the culture, family life and enjoy its diverse cooking and ethnic mix. This is changing. Increasingly many sections of Vietnam from Sapa and My Chau in the North to Kontum and Pleiku in the Central Highlands to Vinh Long, Cai Be and many places in the Mekong Delta are developing a new option for foreign accommodations – home stays. For most of the first class travel set, this is not what they are seeking but for those with a taste for adventure and a desire to learn more about Vietnam – it's people and it's culture, home stays can be a very good choice.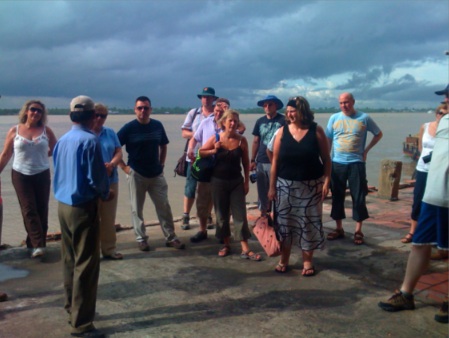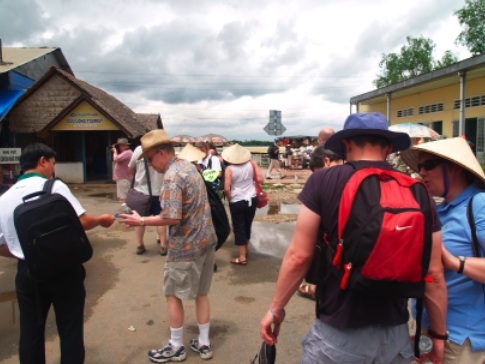 Pictures above: The group is briefed by the guide and and walks around a neighoring small business.




The author who has enjoyed staying with groups in Sapa, My Chau and also in the Mekong Delta notes that the standards of home stay accommodation is steadily improving. Years ago, conditions were Spartan, hygiene primitive and the fare served the most basic. That is no longer the case. Although in keeping with the home stay goal of allowing the guest to experience local living, air conditioning is usually not included, rooms now are now often clean, private and are supported by basic but quite adequate bathroom, washing and other facilities.




Picture left: The author with the guides.



The caveat here is to deal with quality providers and to do your due diligence on the company arranging the home stays. Home stays in Vietnam require completion of registration papers with local authorities, which necessarily must be filled out and given to local officials. You need a local to do this. It really can't be done by anyone who doesn't do this regularly. Also, the better providers see this more as a long-term business and hopefully are fairer in sharing fees. This is one of the dangers of the whole home stay industry in Vietnam is in ensuring that the benefits in terms of increased income really get down to the families hosting the home stay which in many cases hasn't happened in the past. Questioning your tour company on how they share fees, help ensure environmental protection and help give back to the community are all valid and encouraged questions you should ask.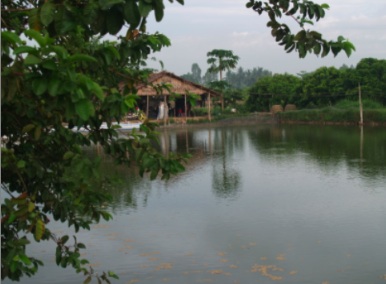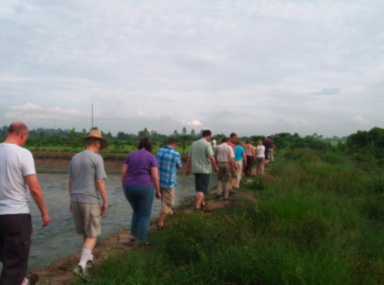 Pictures above: Explore the family farm

The results of a well-run home stay are dramatic and can be life changing for many groups. Recently we assisted a fairly large group from the United Kingdom in a home stay in the Mekong Delta. Most of the guests loved the experience. They thought the food and drink provided was great; enjoyed the warmth of the home stay family and the chances we arranged to visit a village school and meet a local teacher and headmaster.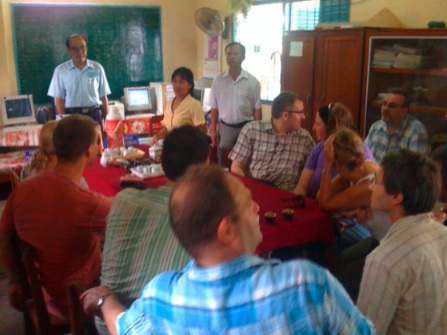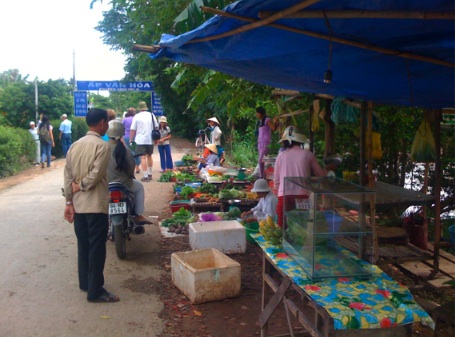 Pictures above: Visit the school and the market

They also found the visit we arranged to a small village medical aid station fascinating and truly revealing of the status of medical care and need for additional change. Although sleep was limited due to the late turning in and the early rising of the village, the heat and mosquitoes were not as bad as expected. Despite the fact that all we had was an electric fan, very few of our group found the conditions oppressive or anywhere near their earlier fears although mosquito spray is a definite must.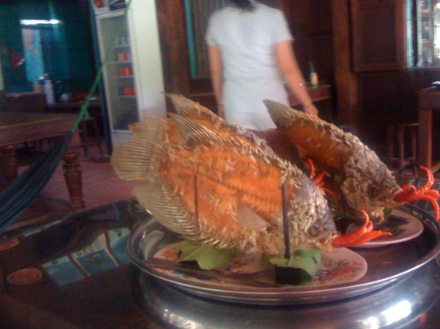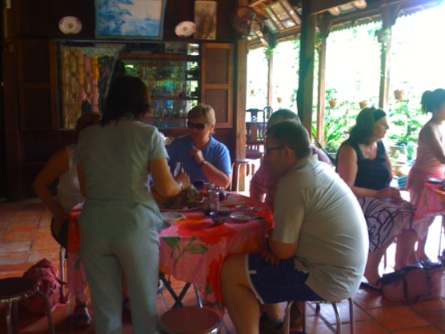 Pictures above and below: Meals and entertainment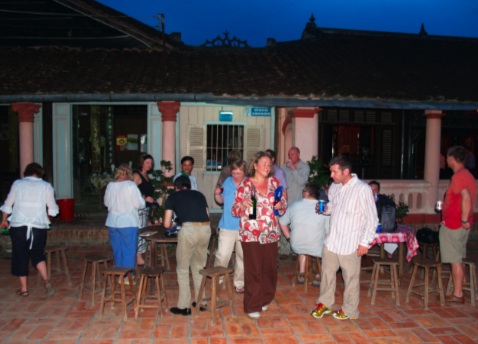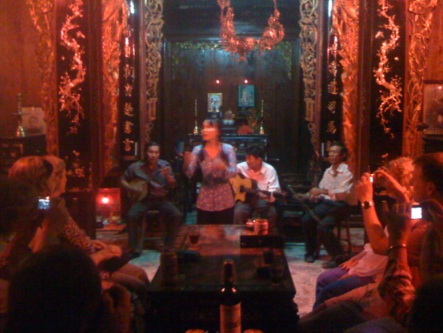 Again, home stays are not for everyone but they can be an excellent short addition to a tour, an EMBA or MBA visit or of a trade mission or group visit to Vietnam. Although the conditions maybe Spartan, Vietnamese are welcoming and friendly and many a new friendship may sprout from a village home stay.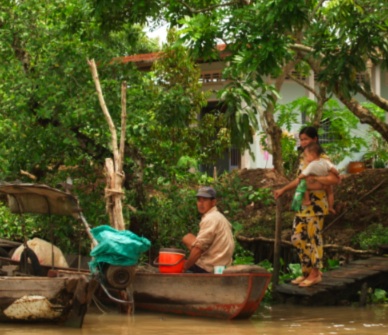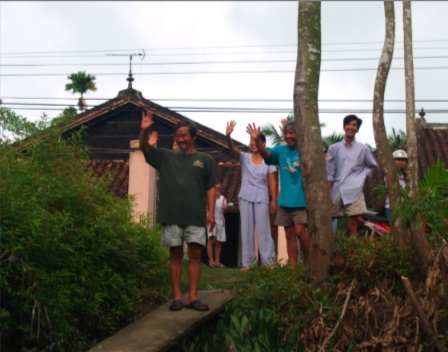 ---
About the Author:
Christopher W. Runckel, a former senior US diplomat who served in many counties in Asia, is a graduate of the University of Oregon and Lewis and Clark Law School. He served as Deputy General Counsel of President Gerald Ford's Presidential Clemency Board. Mr. Runckel is the principal and founder of Runckel & Associates, a Portland, Oregon based consulting company that assists businesses expand business opportunities in Asia. (www.business-in-asia.com)
Until April of 1999, Mr. Runckel was Minister-Counselor of the US Embassy in Beijing, China. Mr. Runckel lived and worked in Thailand for over six years. He was the first permanently assigned U.S. diplomat to return to Vietnam after the Vietnam War. In 1997, he was awarded the U.S. Department of States highest award for service, the Distinguished Honor Award, for his contribution to improving U.S.-Vietnam relations. Mr. Runckel is one of only two non-Ambassadors to receive this award in the 200-year history of the U.S. diplomatic service.