Loyola Marymount University (LMU) EMBA Program
Meets with Hospitality and Tourism Officials and CEOS in
Thailand, Cambodia, Vietnam and China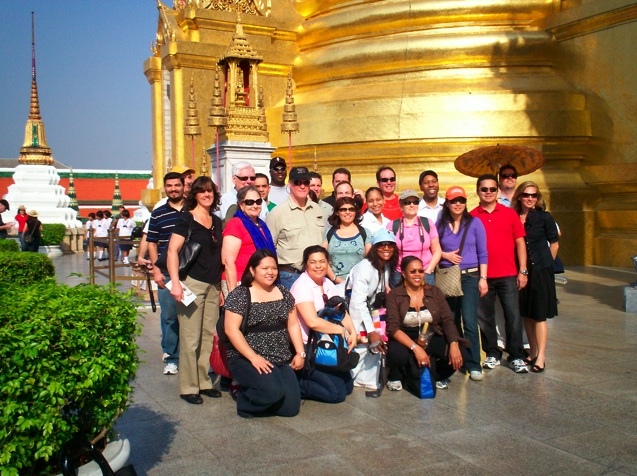 Loyola Marymount University (LMU) in Los Angeles, California has a highly regarded Executive MBA (EMBA) program. Each year this program, which typically has approximately 25 students, picks an industry to focus on for study and for development of projects/studies/research. In 2007/2008, the program picked the hospitality and tourism sector with a particular focus on

Southeast Asia including Thailand, Cambodia, Vietnam and China

. These countries also were chosen for the March visit which commenced in Bangkok, Thailand on Sunday, March 2.

In looking at the Hospitality and Tourism Industry in SE Asia it was logical to start in

Thailand,

most successful country in the region in terms of this industry. Thailand gets about as many tourist arrivals in one quarter as Vietnam, one of the rising countries in the sector, gets over the whole year. This comparison is not to denigrate Vietnam, where there are many solid tourism opportunities, but to state the fact that Thailand has a much more developed and deeper tourism sector than its neighbors and continues to find new facets like medical tourism, the spa and wellness industry to continue to grow and develop.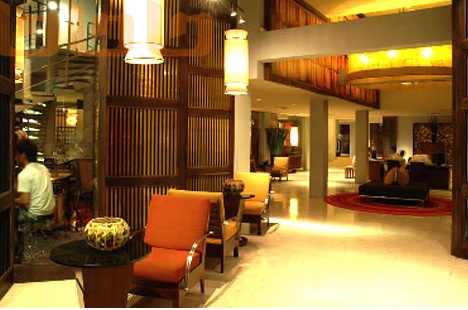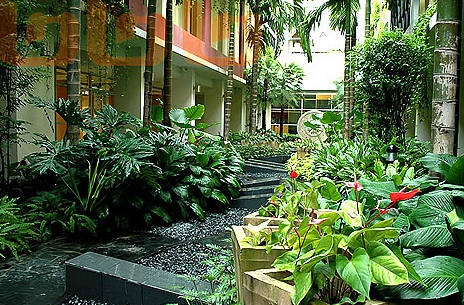 Pictures above: Triple Two Silom boutique hotel in Bangkok, Thailand
In Thailand, the group stayed at the Triple Two Boutique Hotel, which is owned and run by the same group that runs the Narai Hotel. This property continues to be one of the finest business hotels in Bangkok and everyone enjoyed the central location, great food, impeccable service and amenities. We started our program in Bangkok with an elegant Thai dinner and cultural show at the Silom Village Restaurant which is a short walk from the hotel.

The next morning, the Executives toured the Temple of the Emerald Buddha, the Grand Palace plus enjoyed stops at the Parliament and the Marble Temple (Wat Benchamabophit) to see the fine collection of Buddha statues on display.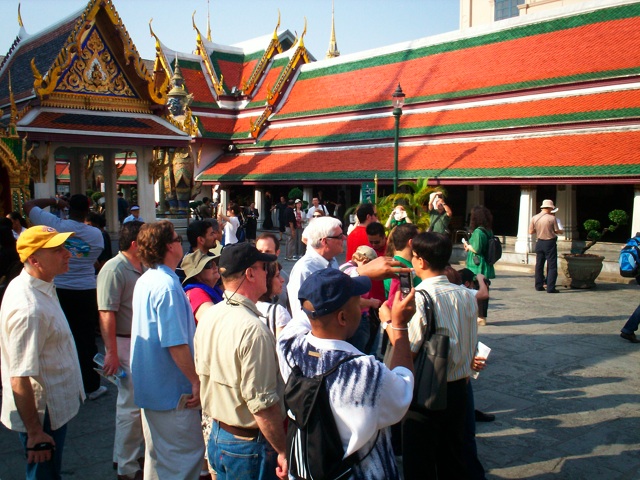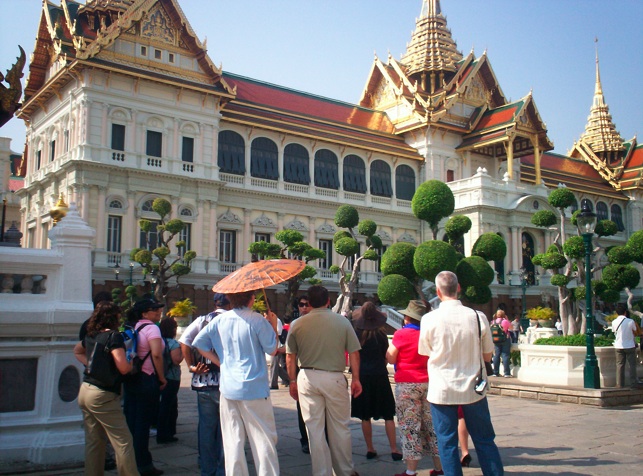 Pictures above: The group visit Temple of the Emerald Buddha and the Grand Palace in Thailand



In the afternoon the executives first heard from the head of the U.S. market for the Tourism Authority of Thailand (TAT), Mr. Settapan Puttanee, who talked about developments in the growth and longer term stay of U.S. and North American tourists and also about Thailand's leading position worldwide in medical tourism. (Thailand is expected to exceed two million medical tourists a year by next year. It is the most successful country in the world in terms of this and far exceeds its two nearest competitors and continues to grow at a faster rate than any country in this sector. This was followed by a presentation by Sukaya Janchoo, formerly of the Grand Hyatt Erawan and the Dusit Thani where she served as Assistant Vice President – Sales and Marketing and who currently is General Manager of the Chatrium. Ms. Janchoo gave an excellent presentation in which she noted the challenges of marketing and sales, human resources and other challenges for Thailand's growth and also how local hotel chains like the Chatrium, the Dusit, the Royal Garden and others are expanding both domestically and internationally.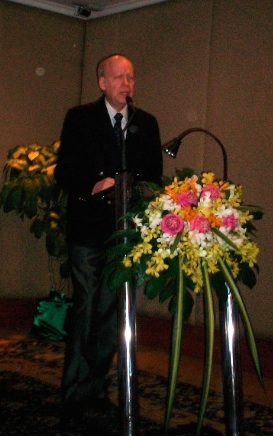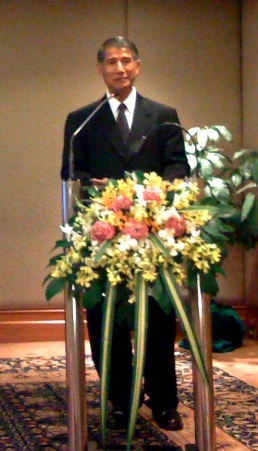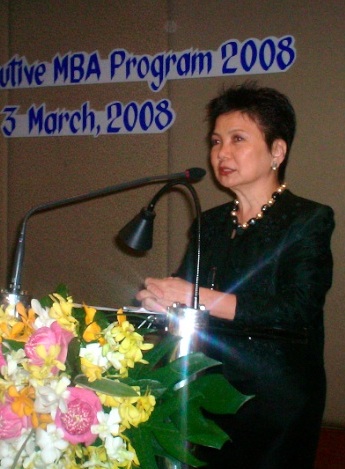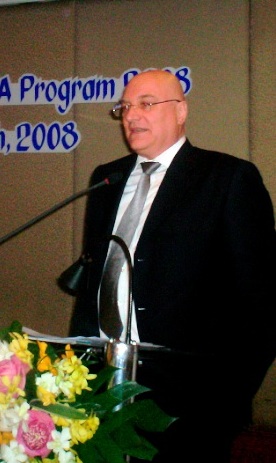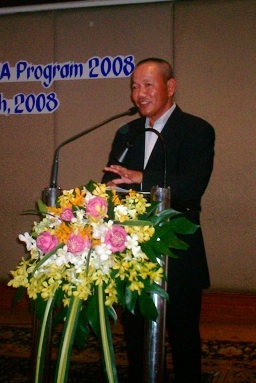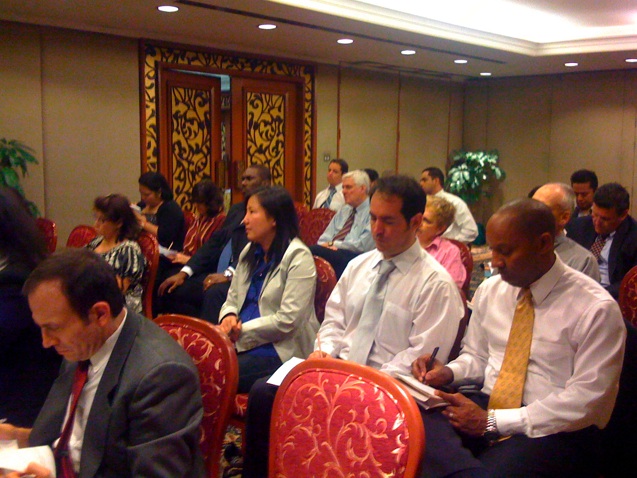 Pictures above: A half day seminar featuring leading hotel managements and Tourism Authority of Thailand as guest speakers



Ms. Janchoo's presentation was followed by that of Mr. Claude J. Scheffer, General Manager of the Imperial, Queen's Park, the Imperial Group, who discussed his own experiences throughout Asia and particularly in Thailand to note the challenges of management, building a local brand and the importance of food and beverage to a hotel. Mr. Scheffer was particularly insightful in responding to questions on hotel profitability and administration and was helpful in giving the executives a much more intimate and deeper appreciation of running an Asian hotel. He was in turn followed by Pichet Nithivasin who heads both the Narai and Triple Two, who noted that unlike in other countries food and beverage are key to a Thai hotel's success and how managers who don't quickly realize this and focus on this element often miss out on opportunities for both sales and repeat visitors which limit and diminish the properties they serve. Pichet followed the presentation by taking the executives on a short walk to his newest property, an ultramodern hostel – the Lub D located nearby which produces respectable profits with much more limited staff and overhead. Pichet, who has continually experimented with new facets of the food, beverage and hotel industry, spoke with the students as did his staff on this new opportunity and how various facets of the venture further illuminated wider challenges in the hotel and hospitality sector.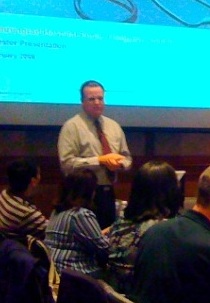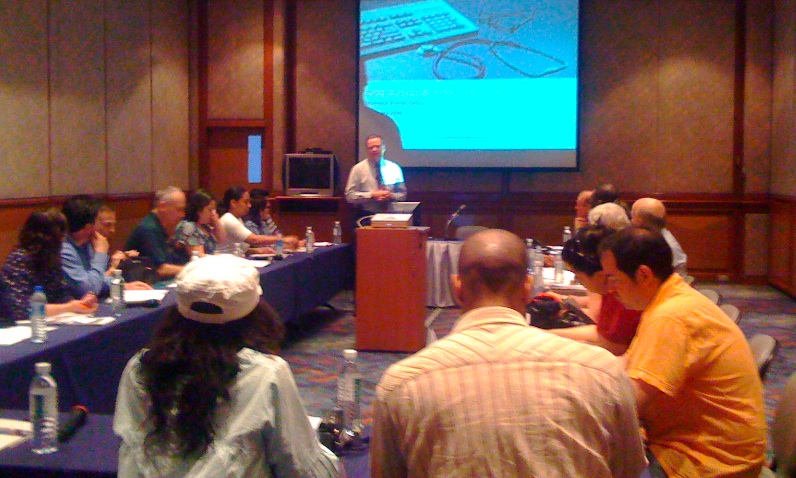 Pictures above: A two-hour presentation and Q&A by Bumrungrad International Hospital Group Chief CEO Curt Schroeder.
Pictures below: The hospital's Marketing Manger gives the group a private tour of the hospital.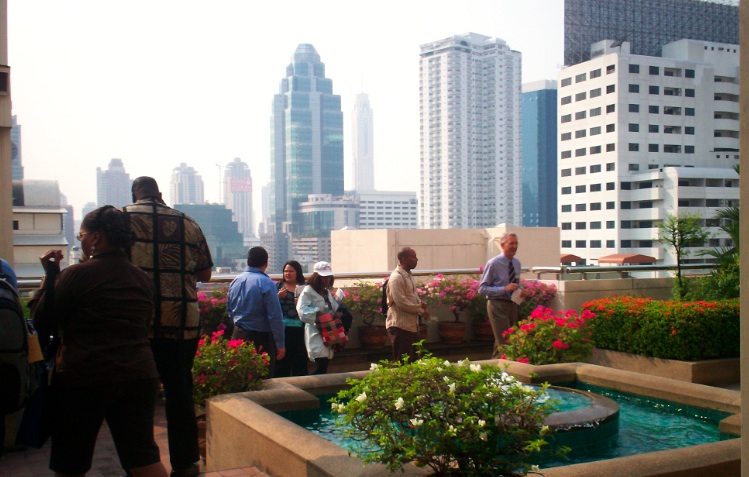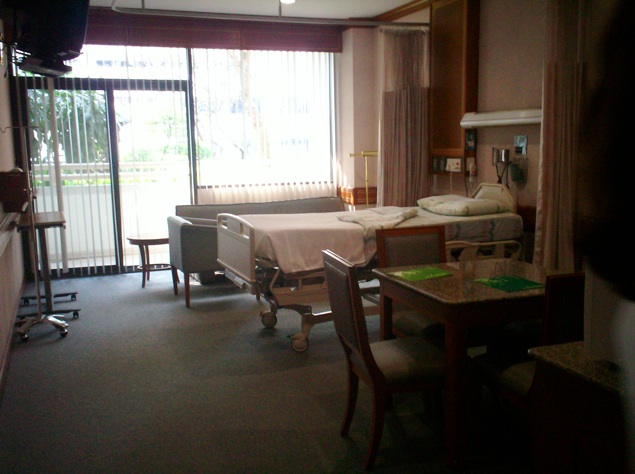 The next day saw a scenic tour of the Chao Phraya River with views of the Temple of the Dawn, Bangkok and Thonburi canals plus the vestiges of Bangkok's early years in the Oriental Hotel, the Royal Barge Museum and other scenic points. In the afternoon, the group had a two-hour presentation by Bumrungrad International Hospital Group Chief CEO Curt Schroeder on how Burmrungrad Hospital had gone from essentially bankrupt in 1998 to the largest and most successful hospital in SE Asia in just 10 years. This turn-around story and the start of Medical Tourism, which soon will bring over 2 million tourist/patients to Thailand, has become a fascinating case study for the World's best MBA programs and delegations from Europe and the U.S. routinely visit Bumrungrad to listen to and learn the lessons of this transformation and to see how adversity was used to transform medicine in Thailand into a very large and profitable business.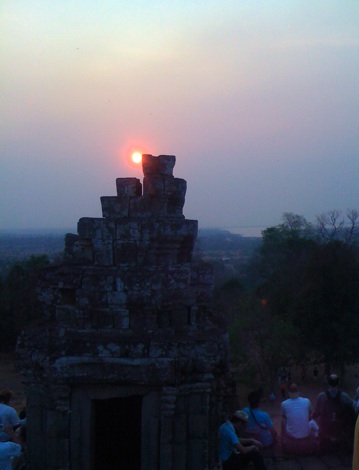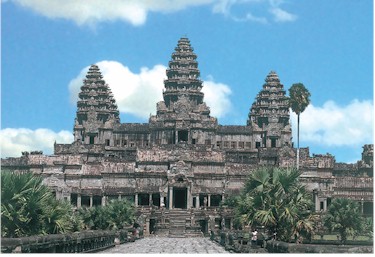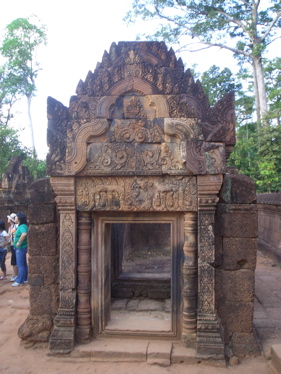 Pictures above: After Bangkok, Thaland, the Executive MBA group visits Siem Reap, Cambodia



The following morning was spent by the Executive teams in independent research on their projects while the afternoon saw the group on the way to

Siem Reap, Cambodia

. Arriving in the late afternoon, the group transferred rapidly to visit the Angkor Wat temple complex and to enjoy the the sunset at Phnom Bakheng. After a quick return to the hotel, this was followed with a memorable dinner of Cambodian food in a location which in terms of ambience, décor, food, drink and service truly impressed the group with its charm. The next morning saw the team touring Bayon Temple and Angkor Wat before a lunch in air conditioned comfort in the nearby Artisans Angkor shop and restaurant.

That evening the group flew to

Ho Chi Minh City (Saigon), Vietnam

, the commercial hub of Vietnam, for check-in at the Norfolk Hotel, which I continue to feel is one of the best business hotels in Ho Chi Minh City. The next day we had a full-day of presentations starting with a presentation by Chris Runckel, President of Runckel & Associates (Corporate website: www.business-in-asia.com) which took the three countries visited to this point – Thailand, Cambodia and Vietnam - and put them in persepective economically, culturally and from a business standpoint.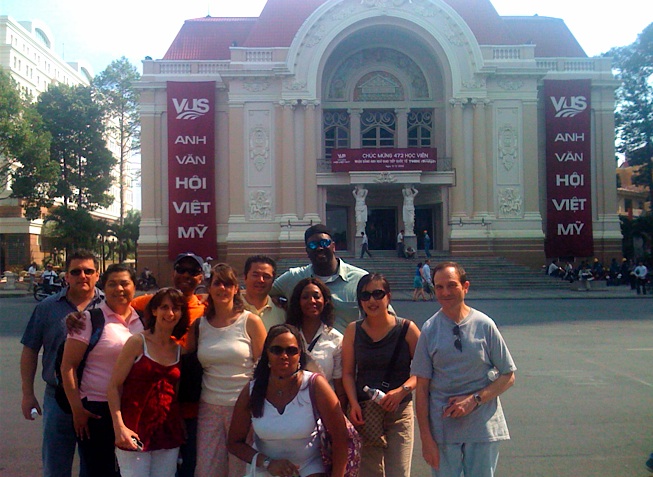 Pictures above: Some of the group's members in HCMC, Vietnam
Picture below: (left) Presentation by Head of Business Development of Saigon Tourist and
(right) Mr. Ralf Mtthaes, Manageing Director of TNS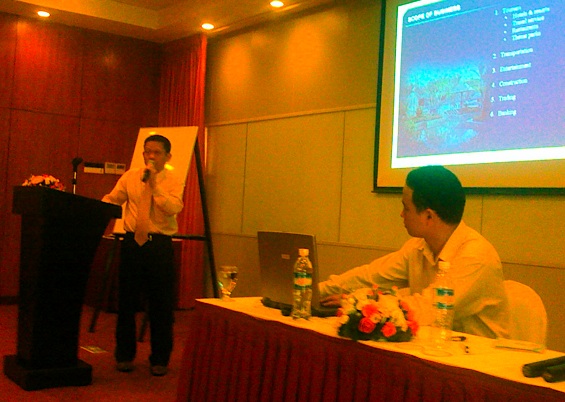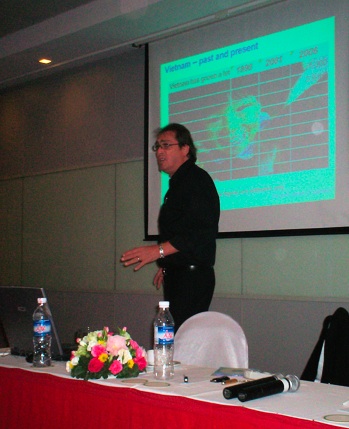 This presentation was followed by a presentation from Mr. Binh, Head of Business Development for Saigon Tourist. Saigon Tourist commenced operation in 1975 in Ho Chi Minh City and is Vietnam's leading tourism business. In recent years, Saigon Tourist has diversified and now is managing 8 travel service companies, 54 hotels, 13 resorts and complexes and 28 restaurants.

Mr. Binh told the group that in the first half of 2007, tourism to Ho Chi Minh City alone increased to 1.26 million international tourists, a YOY growth of over 11% and over 655,000 international visitors explored the colonial setting of Hanoi, posting an increase of around 14%. This means that Vietnam is likely to reach its target of 4 to 4.4 Million international tourists this year. China remains the country with the highest number of arrivals, however opening of flights by United Airlines and cooperation between Vietnam Airlines and the US helped to attract over 200,000 tourists from US to Vietnam, translating into a YOY growth rate of over 5%.

The RNCOS report "Opportunities in Vietnam Tourism Industry (2007-2009)" says that based on the current policy environment and market scenario, tourist arrivals in Vietnam are expected to hit a CAGR value of around 14% from 2007 to 2011.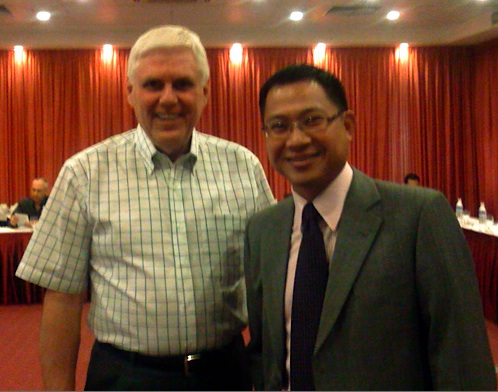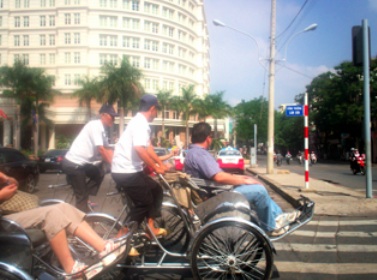 Pictures above: (left) Dr. William Lindsey, Associate Dean and Director of the Center for Executive Learning at LMU,
and Dr. Ly Qui Trung, co-founder and CEO of Pho 24. (Right) Later on, the group has a tour of the city.



This presentation was followed by Ly Truong Chien, Chairman of Tri Tri Corporation and Ralf Matthaes from TNS Vietnam who spoke on "Understanding Vietnam and Vietnam's Business Culture." Mr. Matthaes' company is linked to Gallup and tracks the local market and demographics data on Vietnam's population, market and business to help the group better understand Vietnam as both a developing opportunity and as a complex cultural palette. With long experience in Vietnam and a deep love of Vietnam's people and culture, his presentation helped the group better appreciate their new location.

Following lunch, the group was tremendously honored to hear from Dr. Ly Qui Trung, co-founder and CEO of Pho 24, Vietnam's fastest growing franchise and fast food business. "Pho," a traditional Vietnamese noodle soup, is one of Vietnam's best known culinary exports and Pho 24 is the leader in bringing it to all corners of Vietnam in fresh, hygienic and well lit facilities. Currently there are over 44 stores including international branches in the Philippines, Indonesia, Korea, Australia and soon to be throughout much of the rest of Asia and possibly even in the U.S. Dr. Ly spoke of the challenges of building an international brand and of integrating franchising as a concept but giving it an important Vietnamese touch. He also noted the current challenges that Ho Chi Minh and Hanoi's property boom are causing for businesses such as his by noting that recently a rental on an outlet of his had jumped from $3,000 to $8,000 and inflation was now tracking at double digits in Vietnam for most items. All of this was raising costs dramatically but squeezing profits and so he and his company were finding new opportunities by increasing food offerings to ensure that more guests chose his outlets more often and spent more when they visited. Dr. Ly impressed the group with his obvious well-educated and well-read and researched approach to all subjects and also by his willingness to listen and to consider new ideas to build success in business. He was an excellent model to the group of aspiring entrepreneurs of how to meet the challenges that business generates for us all.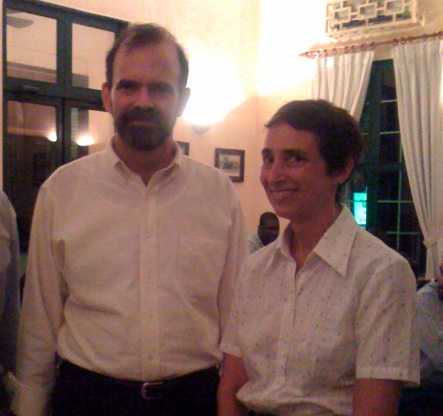 Pictures above: (right) Joining the group's dinner in HCMC are U.S. Consul General Ken Fairfax and his wife
(left) Also joining the dinner are Dr. Rafi Kot, CEO and Founder of Family Medical Practice and
Mr. Ross Meador, a Berkely, California based lawyer with long ties to Vietnam



The last presentation of the day came from Mr. David Carter, CEO of Odyssey Resources Limited. Odyssey Resources Limited is a Vietnamese company that focuses on providing accounting services to the Australian market, although they also provide substantial accounting services to many small, medium and even large international corporations in Vietnam. Mr. Carter, who is trained in both Australian and U.S. accounting and who has worked in Australia, the U.S., Thailand, China and elsewhere, has a very firm grasp of Asian business and gave the group an excellent presentation on outsourcing in Vietnam, both in the accounting field and elsewhere. He also was instrumental in noting Vietnam's tax and accounting requirements and noting how any new tourism and hospitality venture will need to take account of these in achieving success.

That evening, the group dined at the Indo-Chine restaurant with U.S. Consul General Ken Fairfax and his wife; Dr. Rafi Kot, CEO and Founder of Family Medical Practice; Mr. Ross Meador, a Berkely, California based lawyer with long ties to Vietnam; three of the partners of Vietnam Capital Parners LLC, a new venture capital firm targeting Vietnam; and several other local business contacts. The Consul General, the highest ranking U.S. official in the South of Vietnam, spoke welcoming the group and noting the Embassy and his focus on education and increased links and contacts between U.S. and Vietnamese academia.

The following day, a Saturday, the group traveled to the Mekong Delta to see how Vietnam's population lives and works. This was followed the next day, Sunday, by visits by various parts of the group to Nha Trang, Vung Tau and a City Tour via cyclo. On Monday, the group received a briefing by Acting Consul General Angela R. Dickey, Political Officer Katia Bennet, Economic Officer Douglas Sonnek, Second Secretary of the Embassy Jane Blocklage and Consular Officer Jeff Schwenk on Vietnam's development and both current and more long term U.S.-Vietnam relations. This presentation helped to put into context earlier presentations and the executives own observations gained during their four days in Ho Chi Minh City.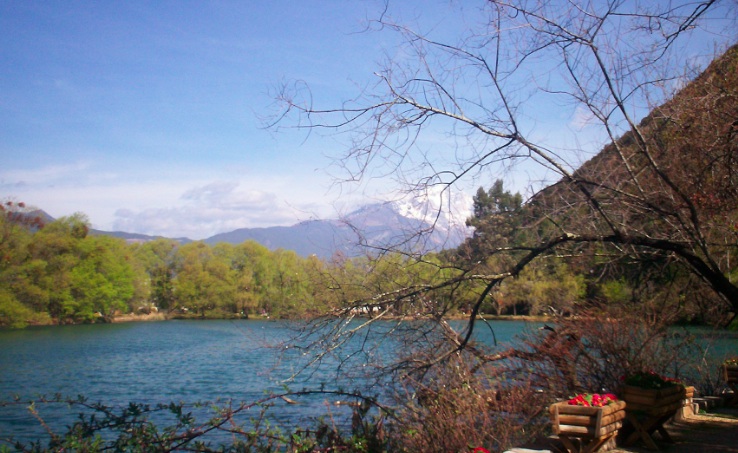 Pictures above: (left) On our way to Lijiang, we stopped by Kunming, China
(right) Arriving Lijiang, China, with scenic view of the snow mountain



The following day was spent in travel from Southern Vietnam to Southwestern China – specifically to Lijiang, China. This was our fourth and last stop on our two week trip. Many on the trip thought before they arrived that the fourth stop would be anti-climactic as we had seen so much, learned so much and shared so much to this point. They were to be mistaken, however, as Lijiang in Southwest Yunnan province in China is stunning both in its achitecture, scenic beauty, cleanliness, lack of pollution and in the diversity and warmth of its people. Lijiang is by Chinese standards a very small city. It is one of the few cities in the world with a population of one million that is over one mile high (above sea level). It has only two five star hotels and a relatively small airport that links to Kunming, Chengdu, Beijing and elsewhere but this city has everything else that a city interested in tourism could desire – stunning views at every turn, two scenic mountains, beautiful streams, an old and elegant architecture and a diverse and colorful range of peoples of many ethnic hues.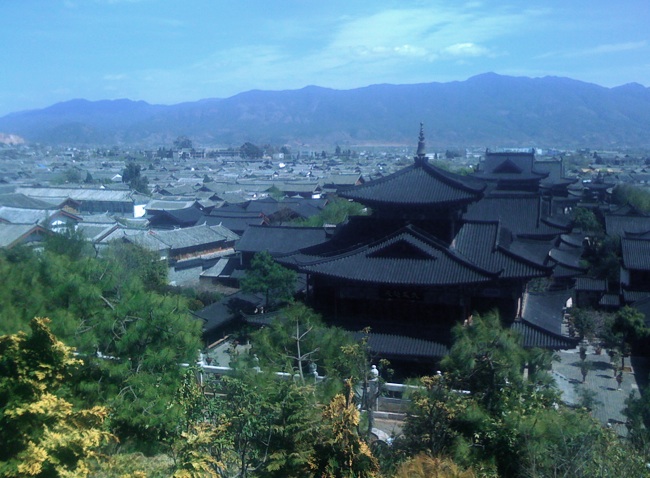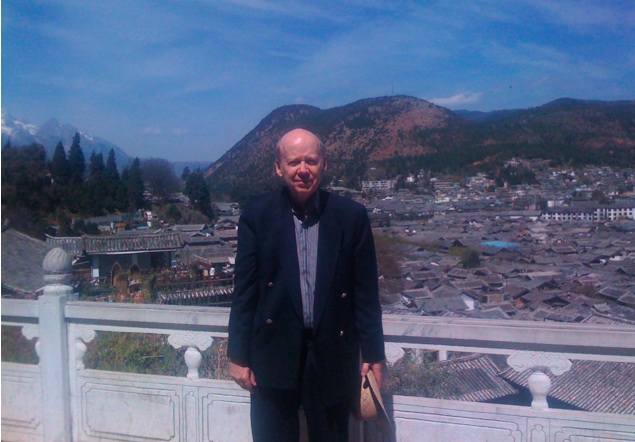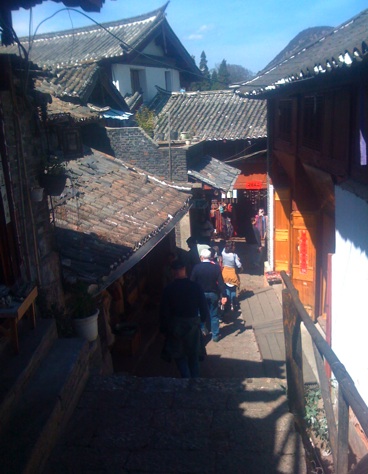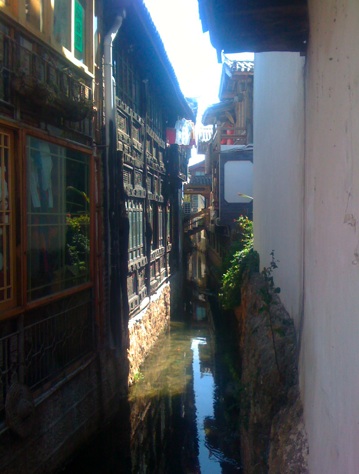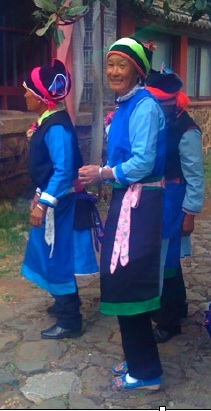 Pictures above: Scenes in Lijiang, China



On our first day in Lijiang, we visited Black Dragon Pool, the Palace of Family Mu and the Dongba Cultural Museum of the Naxi nationality, which has a history of 800 years. Part of our group met with the exclusive Banyan Group property while other parts of our group surveyed more central hotels and looked at city management and how the city has been able to preserve historic buildings amidst a working city that is clean and well laid out. Our guide from Beijing and even I myself marveled at the clean, clear water that runs through the city, the lack of trash and the spotless streets, the best kept I have ever seen in China.

The next day we traveled to scenic small villages surrounding Lijiang where we visited the house of Dr. Joseph Rock, an Austro-American explorer and botanist; Yufeng Monastery, a Tibetan style Buddhist monastery; Baisha Fresco and Jade Dragon Snow Mountain with a height of over 5000 meters, where we took a gondola lift up into the clouds to an altitude of over 20,000 feet, much higher than the tallest mountain inside the continental U.S. That evening in a stunning end to our presentations we listened to China International Travel Service (CITS) and then to the Chief of Human Resources for our Hotel, who gave a very well researched and informative power point presentation on both Lijiang and its opportunities and challenges for international tourism. This was followed by a 17-course Chinese banquet which was served in 5-star luxury that capped our Lijiang stay.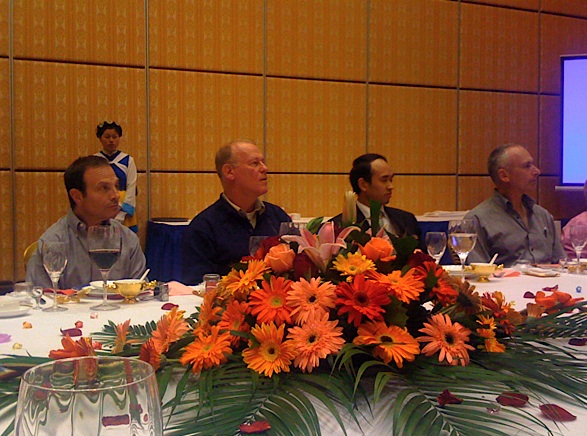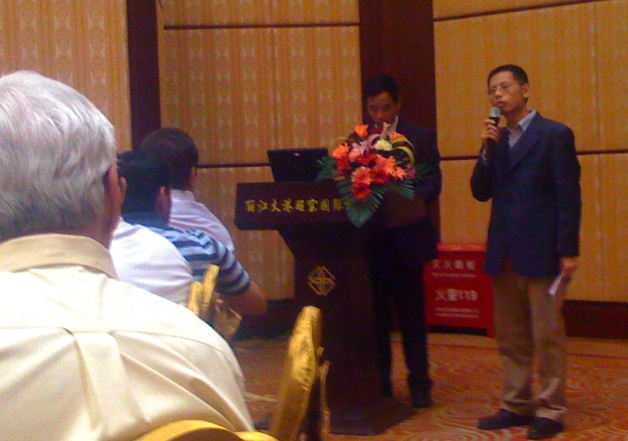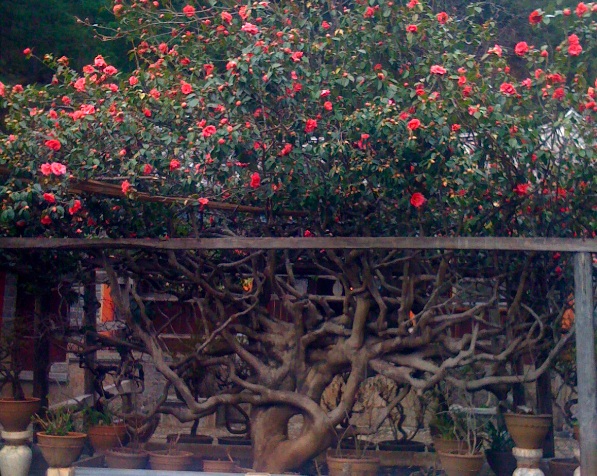 | | |
| --- | --- |
| | This has been my third year with the LMU EMBA Asia visits. Each one has been better than the last and it will be hard in ensure that next year's is even better but it is a challenge that I know that LMU will rise to and I am looking forward to assisting if the opportunity arrives. |
---
About the Author:
Christopher W. Runckel, a former senior US diplomat who served in many counties in Asia, is a graduate of the University of Oregon and Lewis and Clark Law School. He served as Deputy General Counsel of President Gerald Ford's Presidential Clemency Board. Mr. Runckel is the principal and founder of Runckel & Associates, a Portland, Oregon based consulting company that assists businesses expand business opportunities in Asia. (www.business-in-asia.com)
Until April of 1999, Mr. Runckel was Minister-Counselor of the US Embassy in Beijing, China. Mr. Runckel lived and worked in Thailand for over six years. He was the first permanently assigned U.S. diplomat to return to Vietnam after the Vietnam War. In 1997, he was awarded the U.S. Department of States highest award for service, the Distinguished Honor Award, for his contribution to improving U.S.-Vietnam relations. Mr. Runckel is one of only two non-Ambassadors to receive this award in the 200-year history of the U.S. diplomatic service.
---
More of our useful articles: