LMU EMBA program in a Highly Challenging visit focused on
Biotechnology in India, China and Thailand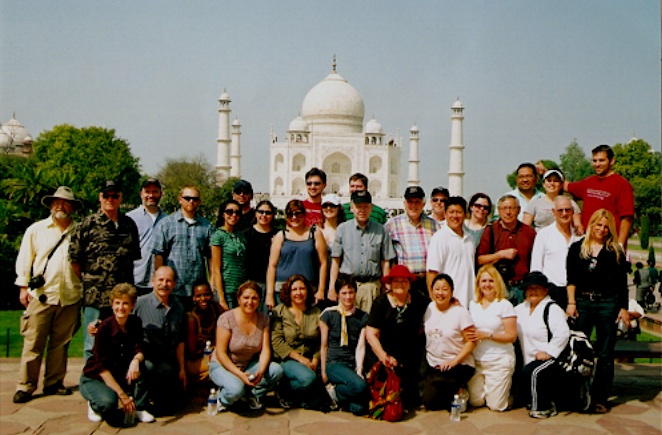 Loyola Marymount University (LMU) operates a highly innovative and practical Executive MBA (EMBA) program in Los Angeles, California at their campus, which is in close proximity to Los Angeles Airport (LAX). The program each year hosts 25-30 executives primarily from companies in the Los Angeles and Southern California region who have committed to the 2-year program to help further prepare them for senior management positions. In general, the average participant in the program has 15 years of experience in business with most having 8 years or more in a mid-level management role. Generally the students represent a wide range of business experience with individuals coming from everything from their own companies, through non-profit or civic organizations all the way to large-scale multi-nationals.

The LMU program includes a group project focused on a particular industry and an international trip as part of the second year program to further prepare participants for the challenges of international business in the 21st Century. Runckel & Associates has worked with LMU for the last two years to arrange and organize LMU's EMBA International trip. For the 2006-2007 program, Associate Dean and Director of the Center for Executive Learning at LMU Bill Lindsey, Professor Richard Stafford, faculty managing the trips and project and their team felt that the project and the trip needed to represent the trends in play today and worked with the participants to identify biotechnology with India and Asia in general as particular points of focus. The four teams used this mandate to develop programs focused on personalized medicine, bio fuels, diabetes drug development and related product production focused particularly on India but with consideration of fallback positions in Thailand or China should conditions dictate that India would not work for the business venture proposed.





Picture above: Thailand's Minister of Science and Technology (MOST), Dr. Yongyuth Yuthavong

The trip started in Bangkok, Thailand where the trip participants recuperated at the Landmark Hotel after their long flights out to Asia. The next day, a holiday in Thailand, the group was fortunate to receive a presentation by Thailand's Minister of Science and Technology (MOST), Dr. Yongyuth Yuthavong on "Why Biotechnology is important to developing countries and on how Thailand has been able to build a niche market for itself between the large-scale biotech programs of China to the North, Singapore to the South and India to the West. Dr. Yuthavong started his presentation by relaying to the group some less well-known facts about Thailand, the importance of biotechnology to developing countries, an overview of biotechnology in developing countries and then a focus on biotechnology in Thailand in particular.

Minister Yongyuth was followed by Dr. Morakot Tanticharoen, the head of BIOTEC, Thailand's major biotechnology research organization who spoke further on biotechnology in Thailand and then by Dr. Samai Jai-In of MTEC who gave an impassioned and very persuasive presentation on how Thailand must use its status as one of the world's net food exporting countries to further focus on bio fuels like ethanol and bio diesel to help secure better return for farmers, lessen energy dependence, cut the cost of energy in agriculture production, etc.
| | |
| --- | --- |
| | |
| Bangkok is a hub of "medical tourism" and Bumrungrad Hospital (picture above) is one of the leading international hospitals. | Bangkok Hospital group operates many medical facilities in Thailand, including hospitals in Bangkok, Phuket (picture above), Hatyai, Pattaya, and other provinces of Thailand. |
In the afternoon, the group toured Bumrungrad Hospital including the newly occupied building dedicated to physical examinations. Bangkok is a hub of "medical tourism" and hospital groups like the Bangkok Hospital Group, Bumrungrad, Ramkamhaeng Hospitals, etc. see each year more than one million foreign nationals in their facilities. Hospital facilities, which are both modern and well administered, have U.S. or European trained physicians, highly trained nurses (Nursing is considered a high-prestige occupation in Thailand and helps to attract better qualified professionals than found generally in Nursing in the Philippines, Singapore, Hong Kong or anywhere else in the region) in a higher ratio of nurses to patients and nurses to doctors than found in the developed world. Procedures and machines are usually state-of-the-art and investment in new techniques is rapid in consideration of the large number of patients seen but prices can be a quarter or less than those found in the U.S.

Thailand has 40 private hospitals and is expected to have 60 by 2008. Out of the $4 billion that the region is expecting to receive in medical tourism, Thailand will attract nearly half of it (47% according to a recent report). Bumrungrad Hospital leads in this field. Founded in 1980, the hospital is the largest hospital in all Southeast Asia with 554 beds and the capacity to take care of 3,500 patients per day. It receives more foreign tourists than any other hospital in the world. Bumrungrad is the first hospital in the region to receive ISO 9001 certification, the first hospital in Thailand to receive the Thai hospital accreditation, which complies with Canadian standards, and the first in the region to receive specialty accreditations to treat complex heart diseases. Bumrungrad also has the largest clinical trial center in ASEAN. Newsweek magazine called Bumrungrad " Asia's first internationally accredited hospital and one of the most modern and efficient medical facilities in the world". It listed Thailand's largest single private hospital first amongst 10 "world-class destinations" including hospitals in Germany, France, the U.S. and the U.S.

Interestingly, although Bumrungrad is the largest single private hospital in Thailand, it is not as large as the Bangkok Hospital group that operates Bangkok International Hospital, Bangkok Hospital, Bangkok Nursing Home (the most expensive and exclusive hospital in Bangkok), Bangkok Heart Hospital (the largest free standing Heart specialty hospital), Samitivej and other hospitals in tourist locations like Pattaya, Hat Yai, Phuket and elsewhere around Thailand (click here for a list of hospitals in this group). One impressive fact about the Bangkok Hospital group and Thai hospitals in general is their close association with a wide range of insurance providers, which can simplify medical insurance claims. It is a measure of Thailand's undoubted strength in this sector far exceeding that of any other nation in the region that this group, which vastly exceeds Bumrungrad in terms of total revenue from "medical tourism," is still growing rapidly and promises to continue to be the leader in Thailand and Asia in the years ahead.

The LMU group was highly impressed by the quality of personalized medicine and high-level surgical operations offered. The executives were also impressed by the general high-level infrastructure in Thailand and the opportunities offered for scientific research and business development.


| | |
| --- | --- |
| | |
| Picture above: Bangalore street | Picture: LMU delegation at Biocon's lobby during the visit |

That evening the group transferred to Bangalore, India for the second stop on the trip. Bangalore, located in India's south, is one of the two Southern hubs of biotechnology in India along with Pune/Mumbai. It is a chaotic mix of well-established call centers, business process outsourcing, computer software centers, manufacturing (both high and low tech) plus a traditional mix of handicraft and other cottage industries. In comparison to the well-laid out and modern system of mass transit, expressways, airports and ports in Thailand, Bangalore is more a "work in progress," which readily shows its potential while still serving up many challenges and inconveniences more representative of earlier days in India.

In Bangalore, the LMU group met with Biocon, the leading bio-pharma company in India, where the group learned about Biocon's extensive production of insulin and other products for the Indian market. Biocon gave a highly professional presentation of their companies' programs and products and of the challenges they currently face in terms of Human Resources and other issues.



Pictures: Inside the campus of Infosys in Bangalore


In the afternoon, the executives visited the Infosys campus, which really must be seen to be believed. In the midst of India is a campus that looks transferred from a University location in Southern California with green lawns, modern buildings and facilities and a young educated workforce, which seems as modern and experienced as found anywhere. Inside this center, Infosys works to provide worldwide solutions while a short distance beyond their campus perimeters old India continues to flourish in all its chaotic splendor both for good and for bad. At Infosys, the company's Senior official on branding spoke to the group as did a Senior official in the Life Sciences division.


| | |
| --- | --- |
| | Picutres: Visit to Mysore. Mysore is the second largest city in the Indian state of Karnataka. It is located 135 km from Bangalore. |

For all of LMU's International EMBA visits, learning about a countries history and culture is just as important as the business components and as part of this the group visited Mysore and received a briefing on local culture and development. The group also received a highly relevant and interesting presentation by Dr. Narendar Pani, Editor of the Bangalore edition of the Economic Times on South India Politics and Economics – The Industrialization of Bangalore plus presentations on the Indian approach to bio fuels producation and related economic development for farmers from Professor Balakrishna Gowda from the Bangalore University of Agriculture and Science.


Picture above: Professor of Corporate Strategy & Chairperson of Research & Publications Professor Rishikesha T. Krishnan of the Indian Institute of Management (IIM) Bangalore talks to the group


Late in the visit, the delegation met with the Indian Institute of Management (IIM) Bangalore to discuss management and business development in India with a focus on the biotech sector. This session, which was overseen by Professor of Corporate Strategy & Chairperson of Research & Publications Professor Rishikesha T. Krishnan, was excellent and revealed the quality of Indian Business and Management education. IIM, Bangalore is one of the signature management schools in India and graduates, who are sought out by investment banks, consulting firms and large multi-nationals, recently have earned salaries in the US$ 220,000 range to start.

That evening the delegation flew to New Delhi on one of the new start-up airlines that are changing the Indian aviation industry. Service was excellent and a far change from former government controlled airlines. In New Delhi, the change from South to North is readily apparent with much wider streets, a more orderly flow of traffic and less chaos than is found in the South. New Delhi is one of the greenest cities in India and also possibly in the world with a large covering of trees, parks and lawns that pleases the eye and helps to reduce temperatures. Visits to signature scenic sites like the Red Fort, Birlan Temple, Parliament, President's House, India Gate, etc. all impressed the group. Over the weekend we visited Agra and marveled at the architectural perfection and diversity that India represents in depth.

| | |
| --- | --- |
| | |
Pictures: Street of New Delhi, much wider streets, a more orderly flow of traffic and less chaos than is found in the South. However, some of the infrastructure (picture right) needs improvement.
| | |
| --- | --- |
| | |
| Picture left: Hindu Temple in New Delhi | Picture right: One of New Delhi's many World Heritage Sites |

On Monday, U.S. Embassy Deputy Chief of Mission Geoff Pyatt, briefers Reggie Singh, Dr. Altaf A. Lal and Clayton Bond spoke to the group on Indian–U.S. relations, the developing business climate in India, Indian biotechnology and other subjects in a wide-ranging format that was a highlight of the New Delhi visit. Late in the afternoon, the group visited India's "Pudong" in Gurgaon (just outside New Delhi) where most of New Delhi's multi-national companies have located. Here we received a very excellent presentation by Amarjeet Singh, Uday Ved, Neetu Vinayek and Guarav Mehndiratta at KPMG, India, on tax and other consideration in new business set-up in India.





Picture: Loyola Marymount University's EMBA group at Panacea Biotec, India's third largest biotech company. Seen 5th from left is Mr. Pradeep Kuman Jain, GM - Corporate Communications & Gov't Affairs

Picture: Chris Runckel, President of Runckel & Associates, who organized the in entire LMU India trip including meetings and logistics standing in front of the Taj Mahal during the visit there.

With the large number of highly detailed and professional presentations already received, most of the LMU group was at a point where the richness of India's human resources and the rapidity of India's development were something we all felt intimately. Despite this, on Tuesday we received much additional sought after input when we met with the Federation of Indian Chambers of Commerce and Industry (FICCI) where Vinay Chaudhry, Senior Assistant Director, Biotechnology, and Dr. B.M. Ganhdi, FICCI Consultant and CEO of Neo BioMed Services and Dr. Surinder Kher, CEO of Clinsys India. Ltd. spoke to the group followed by a panel presentation at Panacea Biotec (India's third largest biotech company) led by Pradeep Kuman Jain, GM – Corporate Communications & Government Affairs, Dr. V.K Vinayak, President – Biopharmacutical R&D, Dr. Ruchi Kukreja, Manager, Clinical Research, Dr. L. Mohanty, GM Strategic Medical Affairs, Kulvinder Sarao, GM – Human Resources and others. Both presentations were spectacularly successful in terms of better informing the group on Indian biotech – both the opportunities and the challenges ahead.

That evening we flew to Beijing for the final leg on our journey. The China visit was designed to allow the executives to utilize it as a check on their business assumptions on India and as an opportunity to explore the world's third largest economy. One initial assessment was that China's physical infrastructure is probably a decade ahead of that found in India. The first day's program, which was all hosted at the Beijing Center for Chinese Studies, looked at Chinese traditional culture, China Values and business, China's economy and economic outlook and also involved sessions for the Executives to meet with China MBA students and to enjoy Chinese culture in all its many manifestations.
Picture: Mr. Jack Perkowski, President and Chairman of ASIMCO

The final day of the official program was led off by Mr. Jack Perkowski, President and Chairman of ASIMCO, China's largest automobile parts manufacturer with nearly 18,000 employees who demonstrated once again why he has come to be considered the best speaker on current Chinese business when he mesmerized the group with very insightful stories of the new China and both the challenges and the opportunities it offers for business. Late that morning, the group met with Crown Bioscience, Inc (Beijing) where President of China operations William Pan compared China and India as sites for biotech research and spoke about China's leading position in bioscience research involving animal testing and certain types of clinical testing.

Over the weekend, the group finished their final days by seeing the Great Wall (making a visit to the Taj and to the Great Wall in the same trip), the Forbidden City and other sites. All in all, it was a life-changing visit for most in opening the executives eyes to the complexity and the promise that India, China and Thailand represent. The learning opportunities were immense, the scenery spectacular and the journey memorable. It is an experience that will long be treasured by all of us.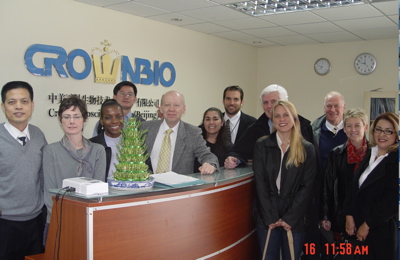 Picture: The group at Crown Bioscience with President of China operations William Pan (far left)


To read more about our other EMBA trips, click here.


---
About the Author:
Christopher W. Runckel, a former senior US diplomat who served in many counties in Asia, is a graduate of the University of Oregon and Lewis and Clark Law School. He served as Deputy General Counsel of President Gerald Ford's Presidential Clemency Board. Mr. Runckel is the principal and founder of Runckel & Associates, a Portland, Oregon based consulting company that assists businesses expand business opportunities in Asia. (www. business-in-asia.corn) Until April of 1999, Mr. Runckel was Minister-Counselor of the US Embassy in Beijing, China. Mr. Runckel lived and worked in Thailand for over six years. He was the first permanently assigned U.S. diplomat to return to Vietnam after the Vietnam War. In 1997, he was awarded the U.S. Department of States highest award for service, the Distinguished Honor Award, for his contribution to improving U.S.-Vietnam relations. Mr. Runckel is one of only two non-Ambassadors to receive this award in the 200-year history of the U.S.diplomatic service.