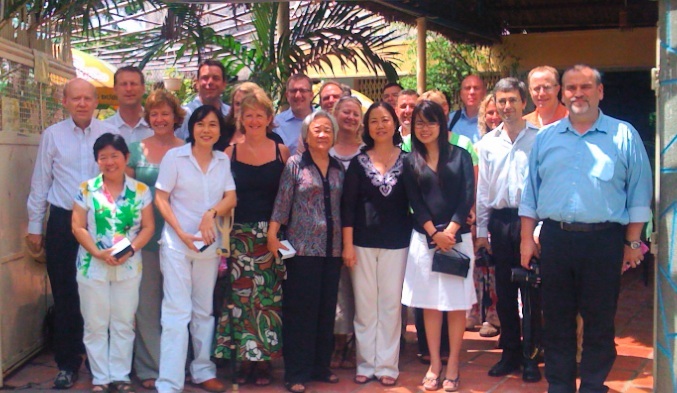 Picture: The group in Vietnam
On June 7, 2008,
Runckel & Associates
met 15 soon-to-be CEOs of the United Kingdom (UK) Pubic Health Service plus professors working with Leeds University in the U.K. and University of Notre Dame at Hanoi's Noi Bai Airport to start a seven-day trip through Vietnam focused on innovation.
The group of senior United Kingdom healthcare leaders visited Vietnam to learn from Vietnam's experience of innovation/dealing with change. The National Health Service in the United Kingdom is one of the largest organizations in the world, employing over 1.2 million people, spending close to $200 billion annually and providing comprehensive health coverage to a population of 60 million people. It is undergoing a major process of change and transformation.
The goals for the group included learning how other groups and organizations have dealt with change and how they have brought a culture of innovation into their organization and tried to maintain it. By interacting with experienced innovators in an environment "outside of their comfort zone", it was hoped that the executives would be able to return home better able to build and maintain an innovative culture. The travelers hoped to gain new insights into both the variety of sources of innovation as well as the dynamic process it involves. In this regard, the trip organizers see innovation as a constant response to the changing environment in which we all function. It is a way of being, rather than a one-off special response.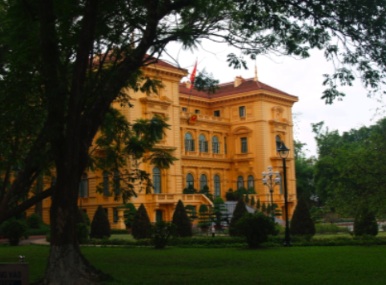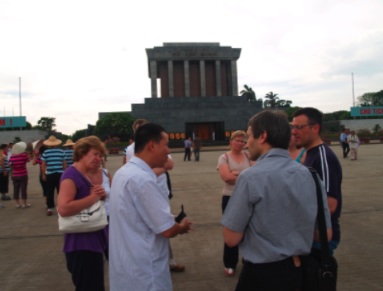 Pictures: City Tour of Hanoi, Vietnam
The group arrived in Hanoi's Noi Bai Airport at mid-day on Saturday, June 7, 2008. On the bus and later at the hotel, Chris Runckel of Runckel & Associates briefed the group on Vietnam. Mr. Runckel has had a long association with Vietnam serving in the U.S. Army in Vietnam in 1969-70; serving as Deputy General Counsel of the U.S. Presidential Clemency Board created by U.S. President Gerald Ford and still later serving as U.S. Special Negotiator for Vietnam. Mr. Runckel was the first U.S. Diplomat to be permanently assigned to Vietnam after the Vietnam War and headed up the first U.S. Diplomatic Office in Hanoi. He was recognized for the breadth of his contribution toward the U.S.-Vietnam relations with the U.S. Department of State's highest award – the Distinguished Honor Award, for his service, one of the few non-ambassadors to have received this award.
In the afternoon following check-in we visited Ba Dinh Square and toured the Ho Chi Minh Presidential Palace Area and certain downtown areas. This was followed by an elegant Vietnamese food dinner at the Wild Lotus Restaurant where the group talked with Dr. Michael Iadamarco, U.S. Embassy Health Attached and U.S. Center for Disease Control (CDC) Director in Vietnam.



Picture: Martin Fisher presents

Dr. Nguyen Ngoc Hung, Deputy Director, International Cooperation Department of the Ministry of Education and Training (MOET), with appreciation gift, while Chris Runckel, organizer of the trip, looks on.
The next day, the group started early and met with Dr. Nguyen Ngoc Hung, Deputy Director, International Cooperation Department of the Ministry of Education and Training (MOET). This started a focus on education and both the challenges it has created for Vietnam and also a focus on the way a drive for education stimulates and drives so much of the nation. Dr. Hung in a presentation titled "Strategic Choices for Vietnam's Higher Education" noted Vietnam's economic progress. As of 2007 Vietnam had 322 universities and colleges and 1.5 million students in 4-year bachelor programs. This is a ratio of 170 students/10,000 citizens. State funding for education had risen from 5.8% of GDP in 2000 to 7.5% of GDP in 2006. Additionally the ratio of private sector expenditure to total expenditure on education was continually growing as well and stood at 25.1% in 2006.

Despite this growth, Vietnam education still faced many challenges. For example, per capita expenditure on education in Vietnam is still low in comparison to other nations. In 2006, the expenditure per person was still only $54 per person and $203 per student (just slightly more that 50 cents per student day). Most of the money spent on education goes as might be expected for primary and lower secondary education (about 52%). The share going for workforce training and higher education is only 15% therefore both the quality and availability of training is limited.
Dr. Hung then explained the seven-solution policy that had been adopted by the government to address this. The seven-solutions are:
1. Create a competitive environment for individuals
2. Create a competitive environment for institutions
3. Introducing demand-driven training
4. Improving the efficiency of financial management
5. Defining clear responsibilities and accountabilities at each level
6. Developing a 2-tier higher system
7. Promoting International Cooperation

The above policy has many components and is currently being implemented. The goal was to rise from 2008 where 350 Higher Education Institutions were supporting 85 million people to rise to 600 Higher Education Institutions supporting 100 million people in 2020. Dr. Hung then opened the meeting to further questions and to exchange ideas, which lasted totally including Dr. Hung's presentations for a very well spent nearly three-hours.

Picture left: Lunch with Vietnamese students who recently graduated from Hanoi University and who are now working for business.

Picture right: The group visits National Fine Arts Museum in Hanoi.

Runckel & Associates then arranged for the group to lunch with students who had recently graduated from Hanoi University and who were now working for business. The group broke-up into small sub-groups of 4-5 with one student and over lunch discussed the change in education, the students perspective on change in Vietnam, the students view of the future and many, many other issues in the innovation field. The group then drove to the National Fine Arts Museum and spent over two hours with the curator talking about Vietnamese Art and how the subjects of innovation and change could be seen in the thousands of years of art displayed in the collection. What we found was that this subject alone could have been the subject of one week of study as influence from the Chinese, French, U.S. and others have failed to change a very innovative and complex art scene that has often reflected the external history of the period in which it was produced.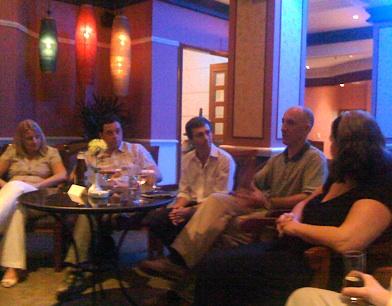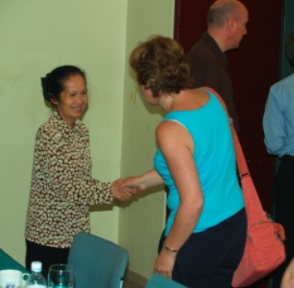 Picture left: Meet with U.K. Ambassador to Vietnam; and right: thr group meets with Madame Chi Lan.
That evening, the group met with U.K. Ambassador to Vietnam, Mark A. G. Kent, who had just returned from traveling in the Northern mountain area and who engaged the group in a two-hour plus discussion on the changing mosaic of Vietnam. Ambassador Kent who had at this point been in Hanoi for less than six months gave the group a number of key insights on Vietnam and also a residents' feel for what it is like to live and work in such a dynamic and changing environment.
The next day, Monday, the group met with Madame Chi Lan, one of the country's most influential business and business legal reform advocates and discussed the subject "The Business Environment and Reform/Innovation". Madame Chi Lan in a very well researched and fact-filled presentation explained how Vietnam had made the transitions in laws and regulations to a more open system, which most observers including the World Bank and others agree, has improved transparency and created much economic opportunity. Later the group broke into two groups with one group going with Madame Chi Lan and talking about the role of women in innovation and change in Vietnam and the other group with Mr. Chinh, from the Ministry of Public Health, who spoke on a recent study he had participated in on needed changes in Vietnam's Hospital and public health system.
After a stimulating morning, the group broke for one of the more memorable meals of the whole trip in a renovated colonial home in the city center. The Vietnamese fare at this lunch was truly sumptuous and the elegant and quiet surroundings were a nice break to our trip.
Picture left: At FTP Software office; and right: In the evening, the group travels to Ho Chi Minh City.


The afternoon session was with FPT Software), the leading software and high tech company in Vietnam and with Harvey Nash, a major U.K. and European software and software outsourcing firm that works closely with FPT. FPT Corporation is Vietnam's largest high tech company. In 2007, FPT staff exceeded 9300 employees and revenue had grown to approximately $868 million. Because of FPT's rapid growth, FPT was the first company to invest in a private university to help it secure more qualified staff. The University, which is located near FPTs offices in Hanoi, currently has over 800 students and has a target to grow to 5,000 students by 2009. Harvey Nash, Vietnam Managing Director Marc Voss and Harvey Nash Vietnam Program Officer Nguyen Hung Cuong described their work in Vietnam and how dealing with change and inspiring innovation is so much a daily goal for them. FPT Director of Software Business Unit, No. 1, Mr. Dao Duy Cuong and Ms. Nguyen Thi Hoa Binh from Public Relations and other FPT officials discussed their work with FPT and their projects from companies in the U.S., EEU, Japan and the Asia Pacific. The group was then taken on a tour of FPT's facilities, which was very impressive as to both the quality of the teams working on multiple projects and as to the facilities, work environment and sense of purpose on display.
That evening the group traveled to Ho Chi Minh City, the commercial hub of Vietnam and checked into the Norfolk Hotel, which I feel, is one of the boutique hotels in Vietnam with great food and excellent service. The next morning we headed out to the Mekong Delta for a tour of the delta region and a home stay with a Vietnamese family. This visit proved a highlight for the group.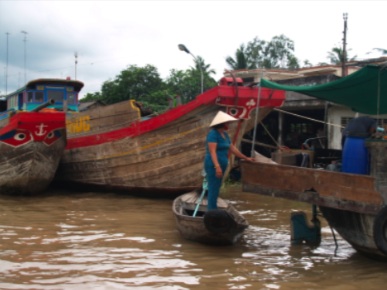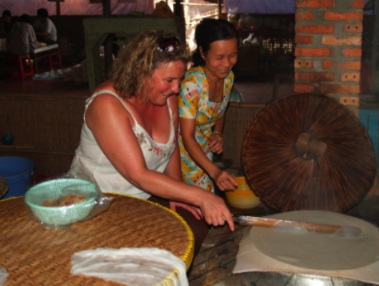 Pictures: At the Mekong Delta.
The Mekong Delta, in Southern Vietnam, is made up of 13 provinces with an area of 40,000 square kilometers and over 17 million people. We focused our stay on the province of Vinh Long which is located between the Tien and Hau rivers (two branches of the Mekong River) about 130 Kilometers South of Ho Chi Minh City. This area gives the visitor a true taste to the tropical splendor that is Vietnam and allows the traveler to see how much of Vietnam's population, lives, works and prospers near rivers and waterways as most people in Vietnam make their living in agriculture and this is a hub for this activity.
Arriving in Cai Be we met our boat and after crossing the Co Chien River, a tributary of the mighty Mekong, we toured An Binh and Binh Hoa Phuoc Islands with their large networks of meandering rivers and canals. In our meandering journey through the canals and byways we stopped at a local market and bought coconuts and potatoes for our dinner and visited a small family operation making popped rice sweets, coconut candy and other treats. We visited a brick factory and porcelain pot and decorative item kiln that was producing items both for domestic and foreign consumption. We then stopped for lunch and walked on narrow paths through verdant orchards to a small family restaurant where we tried Elephant Ear fish, Vietnamese Spring Rolls and many other treats on a cool veranda surrounded by bonsai and other decorative trees.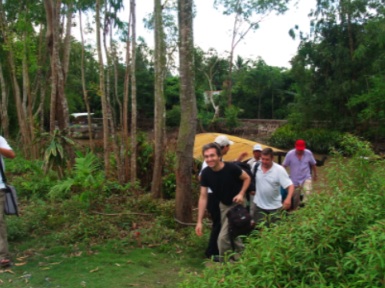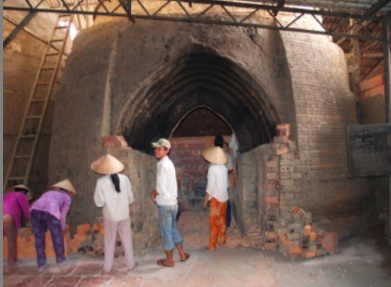 Picture left: Journey through the canal; and right: visit local kiln.
We then worked off the lunch or at least some of us did by taking small boats through the canals which some of us helped to paddle to savor the quiet and also get a sense of these water throughways around which so much life prospered. We then rejoined the boat and after again crossing the river and passing through Vinh Long we edged up the river to our home stay village where we again exited the boat and strolled village alleys in the cooling evening.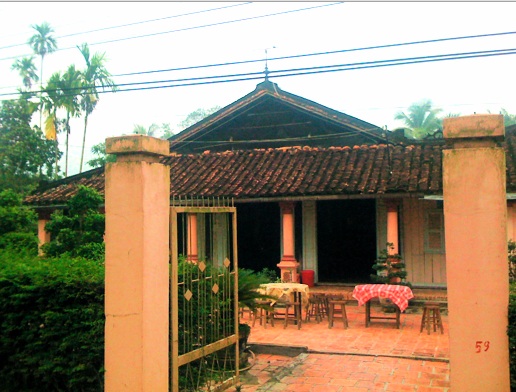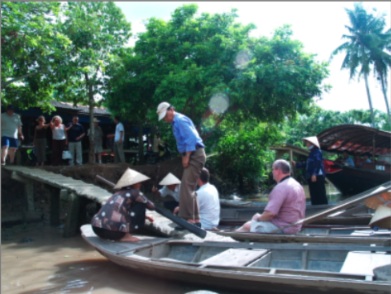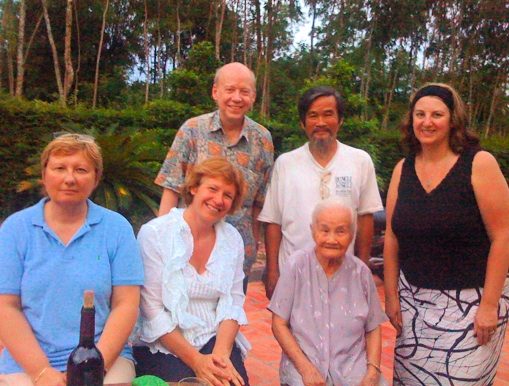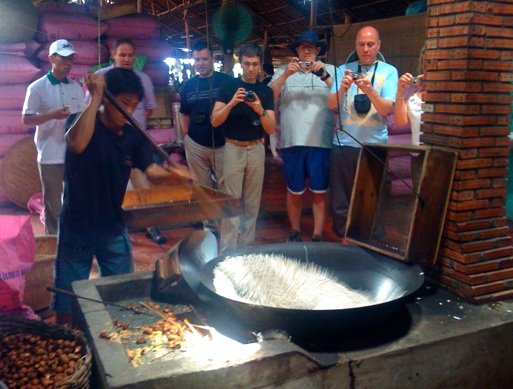 Pictures: On the way and at the homestay
Our house for the evening was with a village family that had an old 185-year-old communal family house named Tam Phan. This house, which had been in an area much contested during the Vietnam War, had been preserved as the family had been allowed to stay there without interruption at the conclusion of the war and until the present time. As all of us reflected on the quiet that surrounded us and some of us enjoyed a cold beer or a pre-dinner glass of wine, the family prepared the meal and we divided up our group and showered and sorted out our sleeping arrangements.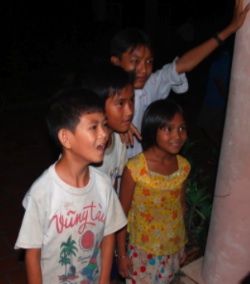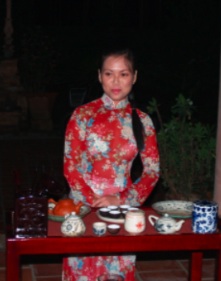 Pictures: Dinner at homestay
Conditions in a Vietnamese home stay vary greatly depending on the location and the management of both the home stay family and of the tour company that works with them. Ours was not luxurious but was clean, well cared for and very well located. The house and its neighbor were stunning and obviously prosperous houses for Vietnam. Bathing and toilet facilities were located out back and were more than adequate. Each bed had a mosquito net, which was good as mosquitoes are prevalent and mosquito spray is required. That night we again had an excellent spread of Vietnamese food all washed down with cold beer, wine and soft drinks and following that a cultural show of music and signing put on by the family and neighbors while we roasted potatoes over a charcoal fire and quietly chatted in both English and Vietnamese with the family, performers and neighbors. It was an excellent time and again, a true highlight of the trip.
| | |
| --- | --- |
| | That night was hot but with an electric fan not as hot as I had feared and the mosquito net protected me and allowed some sleep although sleep is at a premium on a home stay. The roosters started crowing early and most of us were up soon after six for a shower and a quiet walk in the cool morning. Later we walked back and observed the families rice field, fish farm and orchard and learned about local agriculture and farming. We then breakfasted on a typical Vietnamese breakfast of Café Sua (Vietnamese Coffee), Banh Mi (French bread), Laughing Cow Cheese, butter and jam and omelets. Simple fare but also very good before we said good bye to our family and again joined our boat to travel to the small neighboring village where we visited an early morning market and a natural herbs and remedies cooperative and naturopathic health center where we talked with workers and with the naturopathic specialist. |
We then visited a local Health Clinic, which is used by villagers for simple medical requirements all the way up to births. We then met with a local teacher and the schools headmaster and talked about education. The school was simple but well maintained but despite the spread of internet and computers throughout Vietnam still lacked any significant automation with only 4 computers for the whole school and these were restricted for teacher and administration use only. Access to computers for most students is limited to internet café's or use at home for those more prosperous.
We then rejoined the boat, which we all had come to see as an essential way for traversing this region, and again headed down through canals back to Vinh Long where we rejoined our bus where most of the group reveled in the air conditioning and laid back for a nap. After another memorable lunch at the halfway point on the return, we reached the Norfolk Hotel in the early afternoon.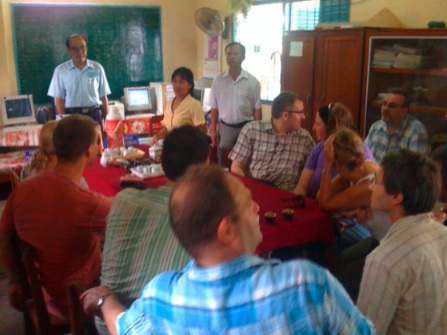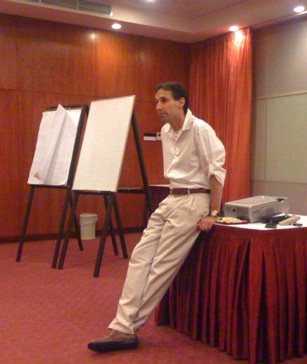 Picture left: The group visits local school; and right: Dr. Rafi Kot gave a presentation back in HCMC
That afternoon we enjoyed presentations by Dr. Rafi Kot, the founder of Family Medical Practice Vietnam (
http://www.vietnammedicalpractice.com/
). Family Medical Practice Vietnam runs a string of medical clinics throughout the country and provides first level medical care to the expatriate and local market. Dr. Kot spoke about medical care in Vietnam and need for increased privatization and expansion of private health insurance to improve quality standards. He was followed by Dr. Moon of Mirae Assets and then Runckel & Associates Ho Chi Minh representative Ms. Nguyen Thi Nhu and her husband Hong who discussed change in one families' life in Vietnam.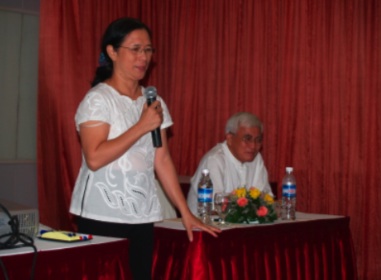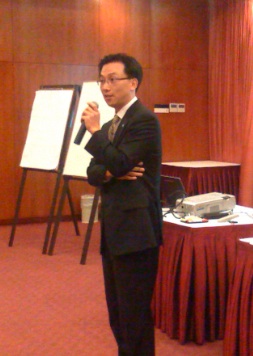 Picture left: Ruby (Nguyen Thi Nhu) and Hong; and right: Dr Moon, Managing Director of Mirae Assets
The next day, the group had a presentation by Dr. Dong Thi Bich Thuy and Dr. Phung Thuy Phuong of the University of Natural Science who spoke further about how they and others are trying to improve education in Vietnam. Dr. Thuy noted the recent creation of the Center for Education Excellence (
http://www.cee.hcmuns.edu.vn/EN/index.html
) which is using Community Based Service Learning (CBSL) to help teach students more about problem solving, working in groups and also to develop increased student involvement.


Later the group traveled throughout the city to visit several projects operated by Environmental Development Action in the Third World (ENDA) (website http://www.endavn.org.vn/). The primary focus of ENDA's work is community development, poverty reduction, and environmental improvement in both urban and rural contexts.

ENDA collaborates with poor and disadvantaged communities (slum communities and relocated people), specific target groups (such as scavengers and private waste collectors), and with ethnic minority communities. The group visited these communities, met with waste collectors, waste collector cooperative companies and with local development officers to learn more about change at this grassroots level as well as to explore community involvement in the clean-up and restoration of city waterways.
The last presentation of the day was by Ms. Anh Nguyet on her work with children with HIV. This presentation was most fascinating and informative for the group as it further demonstrated how dedicated individuals are finding room to work on critical social and other problems in ways that demonstrates innovation and a commitment to society.
That evening the group enjoyed a highlight of the visit and were hosted to a cocktail reception at the British Consul General's Residence. Consul General Deborah Clarke welcomed the group and over drinks and canapés the group talked with Ms. Clarke and other British nationals working in Ho Chi Minh City on health, change and other issues.
Friday started out early for some of our group who enjoyed an early morning cyclo ride to further explore the central region and to see some of the local sites. The group then traveled to a morning session focused on social work in Vietnam with Madame Nguyen Thi Oanh, a social work and community development specialist, Ms. Huynh Thi Ngoc Tuyet, Director of the Center of Research & Consultancy for Development (CRCD) and Vo Thi Hoang Yen, Director of Disability Resource and Development, a local NGO. Madame Oanh is a national treasure for Vietnam. A women who although already in her 70's continues to work daily to improve conditions for those less fortunate and to educate both by her writings and her work and example many younger social workers in Vietnam.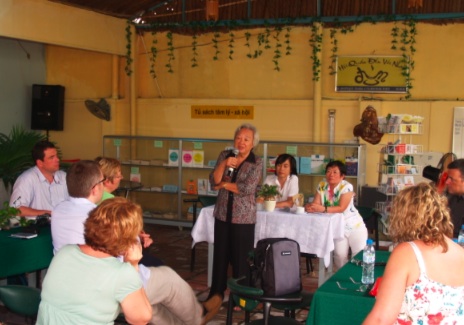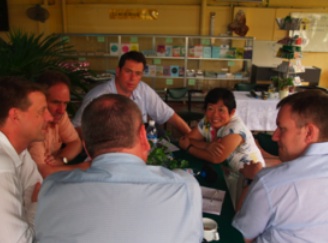 Picture: Sessions on social work in Vietnam
Social work in Vietnam largely stopped in 1975 as the Vietnamese government did not allow it to continue or see the need for it. With economic development this view has changed and now many groups in Vietnam are seeking to work with some of those who either have not received the benefits of development or who have other issues that complicate their life. One example of this is Ms. Yen T.H. Vo, the Director of Disability Resource and Development (www.drdvietnam.com), which works in advocating the rights of the disabled and in trying to encourage their inclusion in society. Ms. Yen who is the third generation of social workers with Madame Oanh being the first and Madame Tuyet the second generation represents the hope for Vietnam. Her organization has worked actively to promote the interests of the disabled and to help ensure their rights and welfare. Educated in the U.S. and with an MA in Human Development, Ms. Yen is carrying on the example set by Madame Oanh and other early pioneers in the new field of social work in Vietnam.
The last meeting of the day was with Intel, Vietnam at the Saigon High Tech Park. (SHTP) Here the delegation met with Corporate Services Manager Norman Denton, Public Affairs/Government Relations Manager Uyen Ho and Construction Manager Mickey Caverly to discuss Intel's experiences in Vietnam and the progress and potential of its over one billion dollar investment. Intel noted that like other tech companies, Vietnam's education system had presented obstacles toward the development of its needed workforce. They detailed how these challenges and others had caused Intel to change and innovate in developing its venture in Vietnam. Intel also described the new practices and procedures that it was incorporating into its operations to improve productivity and to try out new procedures in terms of production not attempted yet elsewhere. It was as the ending session in Vietnam a fascinating example of the way that Vietnam has both adapted to change and innovation and also used new conditions to try out new procedures and ways of managing operations.
Picture left: group picture at the hotel.
Picture right: Runckel & Associates team,
from left: Nguyen Dien Hong Ngoc - HCMC associate,
Chris Runckel - President, Nguyen Thi Nhu - Senior Vietnam Associate

As we headed out to the airport through a late day thunderstorm that whipped the city, we all reflected on what had been an interesting week. At the airport about half of our group went on to a 3-day program in Siem Reap, Cambodia arranged by our company. The other half traveled back to the U.K. All of us had been changed by our week in Vietnam and none of us would look at innovation in the same light. Innovation and dealing with change are everywhere and fully alive in Vietnam. Oftentimes the story of change is different than you expect but the creativity and will to invent and accommodate new ideas are alive and only have to be looked for to be found.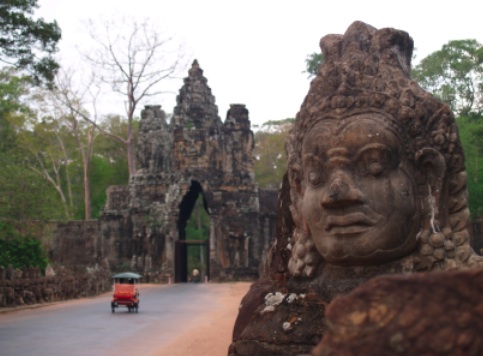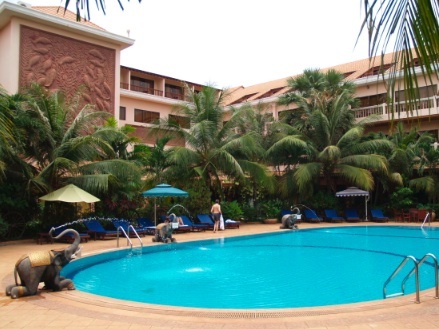 Pictures left: Siem Reap, Cambodia and a hotel used by Runckel & Associates in Siem Reap
---
About the Author:
Christopher W. Runckel, a former senior US diplomat who served in many counties in Asia, is a graduate of the University of Oregon and Lewis and Clark Law School. He served as Deputy General Counsel of President Gerald Ford's Presidential Clemency Board. Mr. Runckel is the principal and founder of Runckel & Associates, a Portland, Oregon based consulting company that assists businesses expand business opportunities in Asia. (www.business-in-asia.com)
Until April of 1999, Mr. Runckel was Minister-Counselor of the US Embassy in Beijing, China. Mr. Runckel lived and worked in Thailand for over six years. He was the first permanently assigned U.S. diplomat to return to Vietnam after the Vietnam War. In 1997, he was awarded the U.S. Department of States highest award for service, the Distinguished Honor Award, for his contribution to improving U.S.-Vietnam relations. Mr. Runckel is one of only two non-Ambassadors to receive this award in the 200-year history of the U.S. diplomatic service.