Vietnam has been increasing infrastructure projects in the border regions to attract more Chinese investment and trade between the two countries has increased considerably in recent years.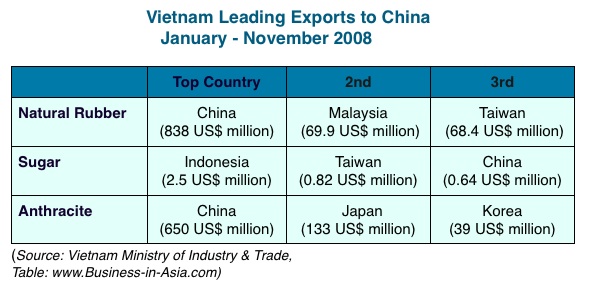 Total turnover from import and export trading between Vietnam and China reached 17 billion U.S. dollars in the first ten months of 2008. This is an increase of 43.4 percent over the same period of 2007, according to the website of Vietnam Trade Information Center under the Ministry of Industry and Trade. Vietnam's exports to China achieved a ten-month turnover of approximately four billion U.S. dollars and its imports from China saw turnover of more than 13 billion U.S. dollars. Vietnam's major export items to China are rubber, coal and crude oil. The main items Vietnam imports from China include clothing, steel, fertilizers and chemicals.
Vietnam and China fought a war in 1979. The People's Republic of China launched the Sino-Vietnamese War, also known as the Third Indochina War, to punish Vietnam for its invasion and occupation of Cambodia which deposed the PRC-backed Khmer Rouge. China after crossing the Northern border with Vietnam met stiff resistance in the North of Vietnam. The war is thought to have caused over 80,000 deaths and many more casualties in the last of the Indochina Wars of the twentieth century.