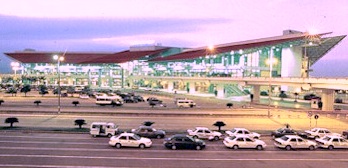 According to a December 25, 2008 report in the Vietnam News Service, Prime Minister Nguyen Tan Dung approved loans for a new airport terminal in Hanoi and for acquistion and construction of a new airport to serve Ho Chi Minh City. The Prime Minister noted that the funds for Hanoi's soon-to-be-built T2 Terminal will come half from the Vietnam Development Bank and the remainder from commercial banks.
The new T2 terminal will have a total floor surface area of 90,000 square meters and includes an aircraft parking area, a fuelling system, a multi-storey car park and an internal systems of roads and passing bridges. The project has an estimated value of US$35 million and is due for completion to help commorate the 1,000th anniversary celebration of Hanoi in October 2010. The new Long Thanh International airport approved by the Prime Minister will replace the current Tan Son Nhat airport to serve Ho Chi Minh City's growning travel requirements.
The new airport will be built in Dong Nai Province and would receive 70 per cent of its capital from the State and the remaining 30 percent from strategic foreign partners and other stakeholders. The approval of the airport asks Dong Nai provincial authorities to identify land to relocate the farmers and others to be displaced at the airport site.
The new Long Thanh International Airport will encompass an area of 5,000 ha in Doing Nai's Long Thanh District and represents a total investment of over US$8 billion. The new airport is expected to be competetive with other major airports in the region but no definite date of completion has yet to be noted.