Writer: By Umesh Pandey
Published:
08/01/2009
, The Bangkok Post newspaper - Asia Focus Section


Vietnam continues to defy the global economic downturn, recording first-half GDP expansion of 3.9%, which should encourage Thai entrepreneurs seeking new opportunities that are available to them.

"Thai investors are invited to participate in the building of Vietnam and if they are looking for any specific areas of interest they can come and discuss these with us directly," said Vo Son Dien, an adviser and marketing director for Becamex IDC Corp, a state-owned industrial estate company, at a seminar in Bangkok this week.

Vietnam, he said, had a similar culture to that of Thailand and therefore it would be easier for Thai investors to tap the market than to try their luck in much bigger markets such as China, where they would be up against many multinationals.

Becamex is playing a role in the government's master plan to develop southern Vietnam into a commercial and manufacturing hub. It calls itself a "one stop shop" where any potential investor can find information about licences, environmental approvals, export permits or other documentation.

"We are the only industrial estate that is owned by the government and has all operations centred within reach of the investor," Mr Dien said.

Becamex, which is located in Binh Duong province, just 25 km from Ho Chi Minh City, is also undertaking a megaproject - building a new city, for which Mr Dien is seeking help from Thai entrepreneurs. Binh Duong New City is set to take shape over 10 to 15 years and be home to one million people.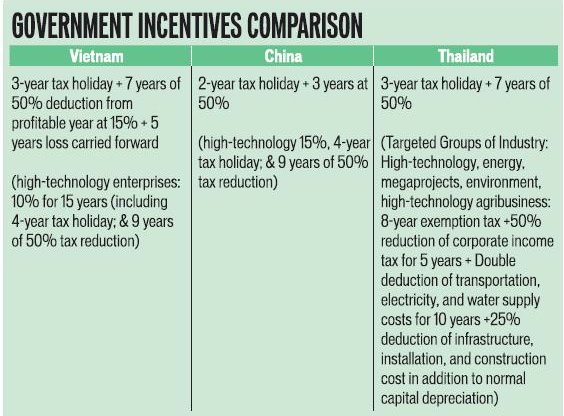 "We would be selling projects in this new city, and not just selling the land so that anyone can build whatever they feel like," he said.

Although some projects have already been awarded to companies that are operating in Vietnam, Mr Dien said more options would be available such as building residential units, hotels, exhibition centres, and entertainment complexes.

The new township would have more than 2,000 hectares of land specified for industrial estates, 1,000 hectares for a new urban district and 900 hectares for premium entertainment centres.

The master plan approved by the central government in Hanoi calls 1.25 million square metres of commercial space and 4 million sq m of residential space. There will also be two golf courses, one racecourse, hospitals, amusement parks, schools and universities.

All these, Mr Dien said, were aimed at helping lift the level of productivity in Vietnam to a new level.

"Binh Duong is what Chon Buri is to Thailand," he said, noting the Thai province's proximity to a major metropolis, with quick access to an airport, seaport and manufacturing hubs.

The task is a daunting one but other panelists at the seminar expressed confidence that Vietnam had the will to carry it out.

"If they say they would be able to achieve it then surely they would be able to do it," said Tharabodee Serng-Adichaiwit, senior vice-president and general manager for Vietnam operations of Bangkok Bank.

Mr Dien acknowledged that sometimes businesses announce big ventures in countries such as Vietnam to shore up their share prices back home or to get publicity, so the government is looking to reduce its risk.

"We do not want abandoned projects and therefore would only look at companies that are big in Asia and/or have a presence in Vietnam," he said.

Apart from the opportunities that exist in building a new city Vietnam offers a lot of opportunities in various sectors and has continued to receive foreign direct investment.

"Although FDI has slipped by 77% due to the economic crisis, the fact that Vietnam has received $8.9 billion so far this year is an achievement in itself especially during such tough economic times," said Nguyen Duy Hung, the Vietnamese ambassador to Thailand.

He said that Thai companies such as Amata Corp, Siam Cement, Loxley Plc, Charoen Pokphand Group, and many others had invested in Vietnam and were reaping the benefits and there was no reason why other Thai companies cannot take similar steps.

Binh Duong, he said, was one of the best options for Thai investors for its proximity to the domestic market and the export base.

Chris Runckel, the chairman of the United States-Vietnam Chamber of Commerce and also the President of Runckel & Associates, says the cost competitiveness of Vietnamese operations was far greater than that offered by China or other destinations.

"Vietnam 10 years ago was a very hard sell, but today it is relatively very easy," he said, adding that the young population base and the diligent workforce made the country among the top choices.

"I'm from Portland, Oregon and this is the place where there are many US multinationals and they all have the same feeling that the Vietnam operations are among the most cost competitive and have the best quality of any production bases outside the United States," he said. Nike, Adidas and Intel are among the companies he has worked with in regard to their operations in Vietnam.

He said that Thai businesses with know-how, management techniques and strong balance sheets were what Vietnamese companies were looking for.

Mr Runckel added that Vietnam was trying to increase efficiency and therefore was now offering large incentives to companies in supply chain management.

Vietnam, according to Mr Dien, is also looking for investments in training such as schools, vocational schools and colleges as it wants to gradually upgrade the labour force from being too reliant on labour-intensive industries such as textiles and footwear.

Read more about Binh Duong and CP Group's experience in the province next week in Asia Focus


---
Related Links: