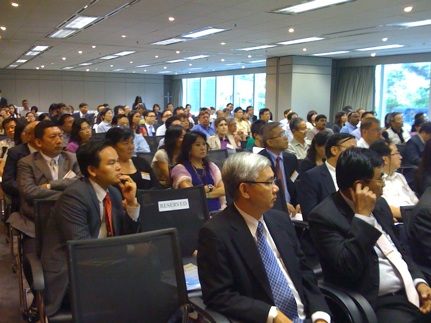 The Consulate General of the Socialist Republic of Vietnam, Binh Duong Province in Vietnam, Becamex IDC Corporation and the U.S. Vietnam Chamber of Commerce (UVCC) jointly hosted a well-attended and very successful seminar in the Pacific Place Conference Center in Central Hong Kong. The Seminar was supported by the Hong Kong Trade Development Council (HK TDC) who managed invitations and logistics for the event.
| | |
| --- | --- |
| | Totally in excess of 200 companies and individuals signed-up to attend the seminar which was held on Monday, September 8, 2008. Attendance was full from both Hong Kong and China-based companies who are currently dealing with higher costs for labor, materials, utilities, etc. plus a strengthening RMB. These conditions have led over 10,000 factories to close their doors in the Pearl River delta over the last six months. Many of these factories were owned by Hong Kong, which due to high wages and other costs in Hong Kong has had to move manufacturing off shore to stay competitive. |
| | |
| --- | --- |
| Consul General Pham Cao Phong welcomed the attendees and noted that Vietnam offers Hong Kong, which is known for its entrepreneurship, detailed knowledge of business and connections with many overseas markets a new and exciting venue for Hong Kong business. He noted the recent visit to Vietnam by a delegation of Hong Kong business persons as showing that interest in Hong Kong is building and encouraged all attendees to make use of the information provided by the following speakers and to consider Binh Duong province and the excellent industrial parks management by Becamex in their future plans. | Picture: Consul General Pham Cao Phong |

Mr. Tran Van Lieu, Head of the Binh Duong Industrial Zone Authority, spoke on behalf of the delegation again welcoming the attendees and noting some of the recent progress that Binh Duong has made in terms of improving on its excellent location, tax incentives, improving infrastructure and amenities. He welcomed attendees to visit Binh Duong to see the reality and to learn why Vietnam is the second fastest growing economy in Asia behind China.

Chris Runckel, Chairman of the U.S. Vietnam Chamber of Commerce (UVCC), was one of the two major presenters at the seminar. Mr. Runckel noted that Vietnam continues to be a top choice for investment because of six reasons. These are that Vietnam has a:


Picture: Mr. Tran Van Lieu
Long Term Consistent Government
Highly attractive government incentives
An improving legal and business environment
The Work Ethic of its people in extremely high
There is a high regard for education
Labor and other costs are relatively low

Mr. Runckel developed each of these issues in detail noting particular how Vietnam compared to China in each of these factors. For example in terms of incentives, Vietnam offers 3 years tax holiday and 7 years at a 50% reduction while China offers only 2 years tax exempt and 3 years at 50%. As another example, in terms of labor cost – the minimum wage in Binh Duong province is US $56.25 while it can be as high as $145 in Shenzhen where many early Hong Kong companies moved their operations.


Picture: Mr. Chris Runckel
Mr. Runckel also noted that Binh Duong province has consistently over the last four years been at the highest position in terms of the Provincial Competitiveness Index (PCI), which rates the business climate in all of the provinces of Vietnam. He then went on to note that no country in Asia is without its challenges and Vietnam continues to have areas needing improvement such as the inflation rate and infrastructure but in general painted an optimistic picture of long-term prospects for Vietnam. Runckel finished by noting opportunities for sourcing of products in Vietnam and for investment in real estate, hotels and tourism, infrastructure and many other sectors.
| | |
| --- | --- |
| Mr. Vo Son Dien, Advisor and Chief of Marketing and Sales Officer at Becamex gave the second major presentation, which focused mostly on Becamex IDC Corporation. Mr. Dien followed on from Mr. Runckel and explained in more detail why Binh Duong province offered the best conditions for locating a factory in Vietnam and in detail of the costs of land and other services offered. He then went on to discuss in detail Becamex that is the largest operator of industrial parks in the southern portion of Vietnam and one of the largest infrastructure companies in Vietnam. Becamex was founded in 1976 and has over 1,400 employees and a yearly turnover of US $500 million. Noting that Mr. Nguyen Van Hung, Chairman and CEO of Becamex was helping to lead the delegation and would be meeting with many Hong Kong senior business people. | Picture: Mr. Vo Son Dien |
Mr. Dien then went on to discuss in considerable detail My Phuoc Industrial City created and operated by Becamex and its way of integrating factories plus services to ensure worker welfare and morale, which leads to longer retention and lower costs. This more holistic concept of industrial park operations already exists and is proving to be both cost competitive and to also provide increased productivity and stability.
Mr. Dien then finished with a presentation of Binh Duong New Township, which is a major modern city with all modern amenities and infrastructure, which is currently being constructed in Binh Duong province near the old province capital. This City, which is being planned with French, Singaporean and other international support, is planned for imminent construction and Becamex, which has been given over-all responsibility for the new city, is looking for business partners to share in the development and expand joint opportunities.



Following the speeches the seminar was opened up to questions and answers and then to time for members of the audience to meet with the speakers and the Binh Duong delegation and to discuss particular investment, sourcing, marketing and other issues.

Throughout the remainder of the week the delegation met with various business groups in Hong Kong, toured several major infrastructure projects plus dined with business and other leaders to further discuss the wide range of opportunities that Vietnam in general and that Binh Duong in particular offered Hong Kong. Follow-up visits were then made to Shenzhen and Dongguan in China for similar meetings.

Later presentations in Thailand, China, the U.S. and elsewhere will continue to increase the business communities knowledge on Binh Duong and Vietnam and to better inform investors of joint opportunities with Becamex.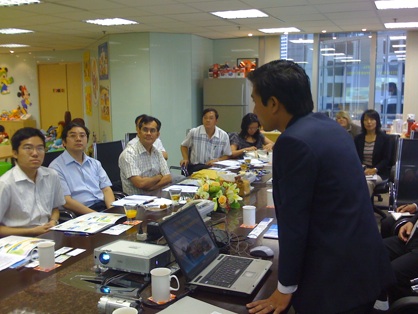 Picture: Company visits
---

About the Author:
Christopher W. Runckel, a former senior US diplomat who served in many counties in Asia, is a graduate of the University of Oregon and Lewis and Clark Law School. He served as Deputy General Counsel of President Gerald Ford's Presidential Clemency Board. Mr. Runckel is the principal and founder of Runckel & Associates, a Portland, Oregon based consulting company that assists businesses expand business opportunities in Asia. (www.business-in-asia.com)
Until April of 1999, Mr. Runckel was Minister-Counselor of the US Embassy in Beijing, China. Mr. Runckel lived and worked in Thailand for over six years. He was the first permanently assigned U.S. diplomat to return to Vietnam after the Vietnam War. In 1997, he was awarded the U.S. Department of States highest award for service, the Distinguished Honor Award, for his contribution to improving U.S.-Vietnam relations. Mr. Runckel is one of only two non-Ambassadors to receive this award in the 200-year history of the U.S. diplomatic service.