HANOI – A RETURN TRIP TEN YEARS AFTER THE LIFTING OF THE U.S. EMBARGO



President Bill Clinton lifted the U.S. Embargo with Vietnam in March 1993. I was a U.S. diplomat at the time and serving as U.S. Special Negotiator for Vietnam. In fact, I was in Vietnam at the time meeting with Vietnam for the U.S. on multiple issues necessary preparatory to opening diplomatic relations. I spent the next three years in Vietnam taking back the keys to the former U.S. Embassy in Saigon and other properties, witnessing settlement of U.S.-Vietnam Private Claims and helping to establish and nurture our U.S.-Vietnam relationship.

| | |
| --- | --- |
| | |
| Contract signing between a U.S. firm and the Vietnamese Ministry of Transport | Ministry of Foreign Affairs Officials of Vietnam and I sign documents transferring properties to the U.S. |
On the tenth anniversary of this event I thought it made sense to take another look at how Hanoi and Vietnam in general had changed and therefore was pleased when the Vietnam Resource Group asked me to lead a group of U.S. companies to participate in Viet Expo 2004 plus help to teach a seminar for Vietnamese businesses on better use of the internet and e-commerce to expand their company's economic outreach. James Rockwell, a longtime friend and the first U.S. businessman to receive a license by the Vietnamese government to operate a business in Vietnam (a license for Consulting and later Trading) and who along with his wife and first son had experienced Vietnam perhaps even more fully over a six year period from 1992-1998 but who now resides in Idaho where he is a stockbroker agreed to join me as did my wife who had taught at the U.N. International School in Hanoi during our stay and now heads our internet and website division of the company.



We flew to Vietnam with Cathay Pacific through Hong Kong which is probably the easiest and quickest way to make the trip with direct service to Hong Kong from San Francisco or Los Angeles and only a two hour lay over before a connecting flight. Arriving in Hanoi's Noi Bai airport, we were all surprised to see a brand new air conditioned international terminal with modern piers had replaced the old dismal terminal where the air conditioning and frequently most everything else didn't work. Even more of a change, several of the immigration officers actually smiled and welcomed us to Hanoi.


On the road into Hanoi which has also been rebuilt, billboards advertised all sorts of products and we passed two industrial parks which showed that modern international industry is a basic part of life in the North. Further in we passed the "Water Park", a Vietnamese amusement park with rides that was new before hitting the city proper. Here the city looked less changed although there are now several modern office buildings and a number of four and five star hotels.



| | | |
| --- | --- | --- |
| | | |
| Hanoi Now - The Hanoi Opera House | The Press Club building | Hilton Hanoi Opera Hotel |


We stayed at the Hilton Hanoi Opera which is still to my belief Hanoi's best hotel primarily because its location puts it only a short walk to so many good restaurants and gives one a chance to stroll the city streets where so much of Hanoi life actually takes place. The Daewoo, the Sofitel and the Sheraton have equally imposing physical plants but not the neighborhood ambience that is to be found in the city center. At the hotel, we called and talked with Al DeMatteis who has been an institution in Hanoi and has spent nearly 12 years there. During this period, Al has probably given back more to the community (both foreign and Vietnamese) than most if any other westerner by actively volunteering and participating in most community activities and through contributing to orphanages, churches and other charities.

We joined Al for a drink at the American Club which stands on U.S. government property and was formerly the site of the pre-1954 U.S. Consulate in Hanoi. Later the compound was Headquarters to the Fatherland Front that helped to coordinate resistance to U.S. and South Vietnamese forces during the Vietnam War. The property was returned to the U.S. in 1993 and the two main buildings on the site were raised due to the fact that the buildings were so deteriorated from lack of maintenance and insect damage that repair was not an option. An underground air raid bunker from the American War period on the property was filled and grass planted and the property now rings to the voices of young Western and Vietnamese children who enjoy the clean surroundings which are a sharp contrast to Hanoi's parks which often are littered with needles and drug paraphernalia or the litter of illicit sex, two vices that have proliferated in recent years according to many.



| | | |
| --- | --- | --- |
| | | |
| On the roof top of the American Club in Hanoi where visitors can play darts, pool and watch videos. | Inside the American Club where dinner is served. Seen here in the picture are: (from left) Adam Sitkoff, Executive Director of AmCham and John Reiley, American Club Manager. | Outside of the Club where family can have picnics and childrn can play in the playground. |

Al DeMatteis told us that we had missed by one day the reception hosted by the American Chamber of Commerce to commemorate ten years of AmCham activities in Hanoi. James Rockwell and I both had hoped to make this event as James and Al were the original founders of the AmCham and had our office of their intention to start such an organization shortly after the initial idea had come to them both.

Over the next days, I toured the city, met with people from the Vietnamese government, U.S. Embassy and the Diplomatic community. Many of the Vietnamese I met started their conversations with me with the remark "Have you seen all the changes!" The truth was that there are a number of new office buildings and also a sprinkling of new hotels that we visited – the Sheraton, the Nikko, the Sofitel and others but really not the building boom that one would expect for a ten year period. Rusting green sheet metal still surrounds several failed joint venture real estate projects and although the traffic is notably worse, much of the old flavor of the city remains. Jogging mornings around Hoan Kiem Lake in the pre-dawn, the area still teams with thousands exercising either to tai chi, aerobics, running, badminton or other activities. There has been much rebuilding of smaller structures but mostly Hanoi remains less changed than most Asian cities which is not necessarily a bad thing.

In talking with Vietnamese government officials, U.S. Embassy staff, western bankers and financiers, Vietnamese and American Businessmen, all readily admit that although there has been considerable investment in Vietnam, the promise has not met reality. All acknowledged that international investment (FDI) was dropping and that many high profile projects failed to become reality as investors succumbed to the Asian Financial Crisis or their own over optimism. Newly committed foreign-direct investment capital decreased dramatically by 60 percent from 1996 to $3.1 billion in 2003. Further, the Ministry of Planning and Investment has reported that by the end of 2003, they have liquidated more than 1,000 FDI projects before schedule, with an aggregate registered capital of $12.3 billion and accounted for 18.6 percent of the total projects by number and 23 percent by dollar volume.

A further problem was that the investment was not being made evenly throughout the country. Since the lifting of the trade embargo, according to several western financial investment companies perhaps as much as 60% has gone into Ho Chi Minh City or the surrounding area with arguably only 20% going into the area around Hanoi. This decision to concentrate investment in the South is natural considering the lesser time the South was under central socialist management and the fact that the U.S. involvement had left the South largely with better ports, airfields and roads but it is not good for Vietnam as distributed development across the whole country will result in less social disruption and better economic development. It also misses the fact that northern workers can often be just as productive and that oftentimes there is less competition in the North and as a result better opportunities as one Venture Capitalist noted to me.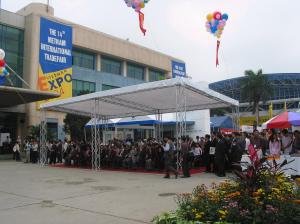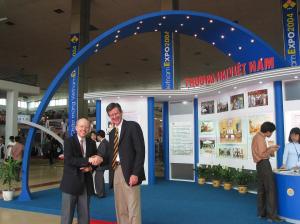 James Rockwell and I at the opening of the Vietnam Trade Expo 2004
At Viet Expo 2004 which was opened by the Minister of Commerce and later visited by Vietnam's President, our group observed a host of Vietnamese and primarily Asian companies displaying their product. According to Press reports there were over 700 stalls with over 580 from Vietnamese companies and over 150 from 20 foreign countries who participated in the show. The event, however, which was at the Giang Vo Exhibition Center suffered from a lack of air conditioning and a failure to restrict the first day to buyers only with public days to take place later. As a result, the event frankly compared less favorably to similar events in Bangkok, Kuala Lumpur and Hong Kong. Many excellent companies both domestic and international were represented much more can be done to make buyers comfortable and to profesionalize the event.

In talks with Vietnamese officials both at the Fair and in their offices, it is obvious that Vietnamese officials see the current drop in FDI, the tremendous pull effect that China is exerting over FDI worldwide, competitive pressures to Vietnams market from a burgeoning Chinese consumer market and other factors and have decided that Vietnam must be more transparent and try harder to attract investment. This change in attitude I sensed is real and this was confirmed to me by many local residents, both Vietnamese and foreign. This bodes well for Vietnam and for investors and the Embassy and others noted that American and Western companies are looking at Vietnam as a place to locate a portion of their Asian production as an insurance policy in the event that the situation in China should become less attractive. This is further supported by a recent Japanese report that rated Vietnam in the number four slot after China, Taiwan and Thailand as a site for Japanese investment in Asia.

A further pull is regional integration which since 1997 has been moving ahead in Southeast Asia and more recently through the active diplomacy of Thailand, China and more recently Japan in Asia as a whole. The five Northeast Asian nations and 10 Southeast Asian Nations collectively have a total population of 1.7 billion and US$7 trillion in gross domestic product (calculated at current exchange rates). Freer trade mostly now with China in agriculture products and with Southeast Asia in a larger variety of goods offers access to a large and rapidly growing market that is increasingly attracting attention in corporate boardrooms.



Vietnam Chamber of Commerce and Industry (VCCI) Building
Later in the week, my wife, Soraya, and I spoke at a training session at the Vietnamese Chamber of Commerce and Industry for about 25 Vietnamese private and state owned companies about how to attract increased business and contact from international buyers through proper use of the internet, e-mail and e-commerce. The interest level was high and the questions from the companies excellent. From these, it was obvious that even in State run companies, no one is waiting around for the Vietnamese government to help them compete more effectively with China and to attract foreign buyers despite their smaller financial resources, still weak English skills and other impediments. Managers and mid level administrators all realize that business waits for no one and that that if their company is to receive the business that they must be actively engaged, fully committed to quality and in close communication with their customers.



| | |
| --- | --- |
| At the training course for Vietnamese entrepreneurs on how to export to the US | With Ross Meador, a lawyer in Berkley, California, who also conduct several presentations on export/import law and regulations |


Although Vietnam is still a poor country, it has always been rich in the beauty of its people. Vietnamese young woman closely follow western fashion but also subscribe to fashions that display their lithe bodies which are a welcome change to the obese physics' that one sees in most western airports and public places. Despite this slim population, Hanoi hosts a wealth of delicious and attractive restaurants. As I noted earlier, the central area around the Opera House is the home to many of these. These restaurants are in a class with anything in the region. One of those we enjoyed was Billy Chin's which is located at number one Ba Trieu and sits directly across from Hoan Kiem lake where we dined on excellent western and Asian fusion dishes in very comfortable surroundings. We also had a very nice meal at the Press Club which is open to the public, at the newly opened Sheraton and at a small French Vietnamese restaurant directly across from the Opera House. The quality of the food and the fact that not one of our group was taken ill through our nearly one week stay shows that gastronomically Hanoi is improving.

Although it is hard to put a nearly one week visit into a few words and although I am hesitant to both be too critical or overly optimistic, Hanoi seems to me to be both little changed although I sense that the government and perhaps the people are all building the consensus for a new period of change that will be necessary for more fundamental changes in business and work if Vietnam is to progress further and to compete effectively with China for FDI, consumer sales, etc. Vietnam and particularly in my view the North does offer opportunities for those who do their homework, negotiate hard before committing resources and area willing to make the commitment in time and effort that a successful investment requires. A visit to see and investigate the possibilities is much recommended.



---

| | |
| --- | --- |
| | Mr. Runckel was the first permanently assigned U.S. diplomat to return to Vietnam after the Vietnam War. In 1997, he was awarded the U.S. Department of States highest award for service, the Distinguished Honor Award, for his contribution to improving U.S.-Vietnam relations. Mr. Runckel is one of only two non-Ambassadors to receive this award in the 200-year history of the U.S. diplomatic service. |
---
About the Author:

Christopher W. Runckel, a former senior US diplomat who served in many counties in Asia, is a graduate of the University of Oregon and Lewis and Clark Law School. He served as Deputy General Counsel of President Gerald Ford's Presidential Clemency Board. Mr. Runckel is the principal and founder of Runckel & Associates, a Portland, Oregon based consulting company that assists businesses expand business opportunities in Asia. (www.business-in-asia.com)
Until April of 1999, Mr. Runckel was Minister-Counselor of the US Embassy in Beijing, China. Mr. Runckel lived and worked in Thailand for over six years. He was the first permanently assigned U.S. diplomat to return to Vietnam after the Vietnam War. In 1997, he was awarded the U.S. Department of States highest award for service, the Distinguished Honor Award, for his contribution to improving U.S.-Vietnam relations. Mr. Runckel is one of only two non-Ambassadors to receive this award in the 200-year history of the U.S. diplomatic service.
---
Copyright, 2008 © Runckel & Associates


www.Business-in-Asia.com