THAILAND'S PARTICIPATION IN
BIO 2007:

THAILAND'S BIO INDUSTRY DEMONSTRATES IT IS GAINING CRITICAL MASS









For nearly four years,

Runckel & Associates

has worked with the Thailand Board of Investment (

BOI

) and the Thai Ministry of Science & Technology (

MOST

) to grow the biotechnology industry in Thailand. At the start, this looked a long-term goal and some even said a "mission impossible." Four years on, however, Thailand is gaining solid respect and has developed a well-conceived, well-supported and growing biotech industry that is gaining increasing world focus.

Thailand's recent participation in BIO 2007 in Boston showcased this growing change. Based on years of work, Thailand has emerged as a growing Asian base for biotechnology. It is one of the world's leaders in terms of agricultural exports. It is a country with strong biodiversity, with well-trained human resources and is now the unmatched leader in medical tourism (In 2006, Thailand attracted 1.4 million medical tourists. Some hospitals in Thailand serve more medical tourists in a year than the entire nation of Singapore, another medical hub competing in this area). Additionally, Thailand has a well-deserved reputation as a cost effective and dependable manufacturing and services base where ease of doing business, protection of intellectual property, and political stability are all part of daily live.





Picture: Seen at the Ribbon Cutting ceremony of the Thailand booth are: (from left) Dr. Siriwat Tiptaradol - Secretary-General of Thai FDA; Assoc. Prof. Sakarindr

Bhumiratana - President of the National Science and Technology Development Agency (NSTDA);

Dr. Pornchai Matangkasombut - President of Mahidol University and Chairman of Thailand Center for Excellence in Life Science (TCELS)

,

Thailand's Science and Technology Minister Yongyuth Yuthavong (cutting the ribbon)

,

Mr. Satit Chanjavanakul - Secretary General of the Thailand Board of Investment(BOI)

and Dr. Montri Chulavatnatol - Director of Agricultural Research Development Agency



This year Thailand's delegation was led by Minister of Science & Technology Yongyuth Yuthavong who was ably supported by the Secretary General of the Board of Investment, Satit Chanjavanakul, virtually all of the senior members of the Thai Center for Excellence in Life Science (TCELS), senior officials from the Agricultural Research Development Agency (ARDA), the Thai FDA plus the private sector. Four years ago at BIO 2003, Thailand sent 5 people to the annual BIO meeting in San Francisco. This year's delegation for BIO 2007 included nearly 80 representatives and represented a mix of business, academic, government and other officials. The representation was extremely competitive for similar countries in Asia with which Thailand collaborates and competes for biotech investment, as can be seen in the following charts.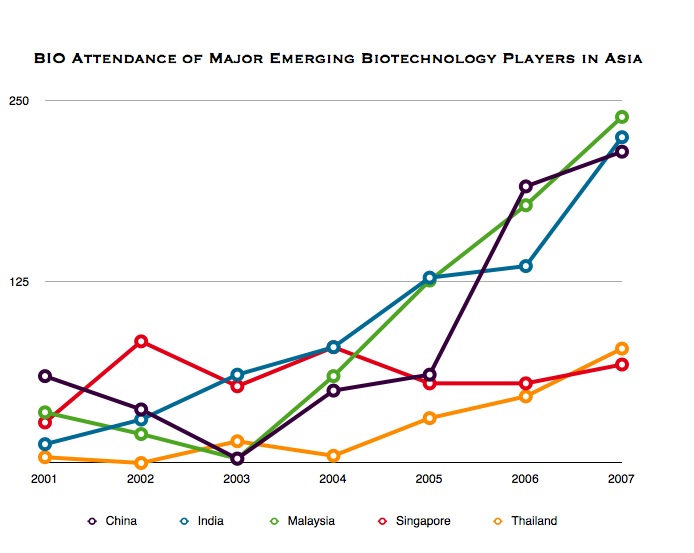 | | |
| --- | --- |
| | I believe the graphs further demonstrate that Thailand's policy for steady attention to improving its biotech environment for investment and for innovation is bearing fruit. Although Singapore and Malaysia have adopted campaigns more known for their high level spending on public relations and the throwing of government budget dollars at trying to become a major biotech player, Thailand has, by way of comparison, followed a policy that is more internally focused on leveraging its strengths and quietly building its science. |
This policy is more in line with Thailand's culture and history. Further, it has shown steady success in building on its strength and of quietly working within the government and with the Thai people to foster increased understanding of the need for building knowledge-intensive industries like biotech. Despite an interim government that has achieved limited results in some areas, the current government's success in building science in Thailand is bearing noticeable results. Two years ago, Thailand's biotech industry was mostly limited to agricultural biotech and contained about 50 companies. Today the number has grown to nearly 100 and in addition to agricultural biotech also includes growing numbers of food biotech, diagnostic, drug discovery & human health and even human genetic research companies.

Signaling that further development is targeted, the Thailand Board of Investment (BOI) announced at BIO 2007 that it has introduced new incentives to support the biotechnology industry by providing a maximized incentive package comprising an 8-year corporate income tax exemption. Moreover, if the applicants' facilities are located in the Science Parks, an additional 50% corporate income tax reduction for 5 years will be granted. The incentives are granted to R&D and manufacturing using biotechnology in the seed, plant and animal improvement industries, biopharmaceutical agents, diagnostic kits and reagents, biomolecules and bioactive compounds.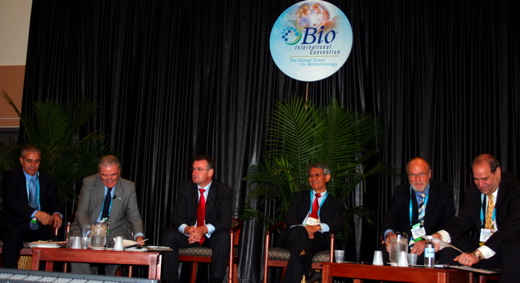 Picture: Seen in the middle, Thailand's Minister of Science & Technology, among other Ministers at the Ministerial Seminar at BIO


This support to business has been matched by the Ministry of Science, which has introduced new legislation providing a major boost in government financed S&T spending. The Minister announced at BIO that the Thai government is increasing the S&T budget three fold in the next three years. Additionally, the government has announced the expansion of the new state-of-the-art Science Park by adding 127,000 square meters of space in four interconnected towers, which are set for completion by 2009. It should be noted that this Science Park, which is by far the country's largest, is not alone. Science Parks are in operation in the Northeastern part of the country at Nakorn Rajasima where there are 4 technology business incubators, the Eastern Seaboard in Chonburi province and the Southern Science Park in Songkla where there are 2 additional business incubators.

Additionally at BIO, Minister Yongyuth spoke to delegates on Thailand's biotechnology vision during a press conference and at the Ministerial Briefing. Later, he met with BIO President James Greenwood and senior BIO officials to review biotech issues in Thailand and to further discuss new initiatives plus issues of mutual concern.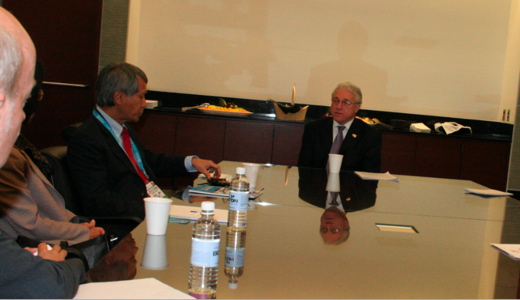 Picture: Minister Yongyuth (left) met with James Greenwood, President of BIO.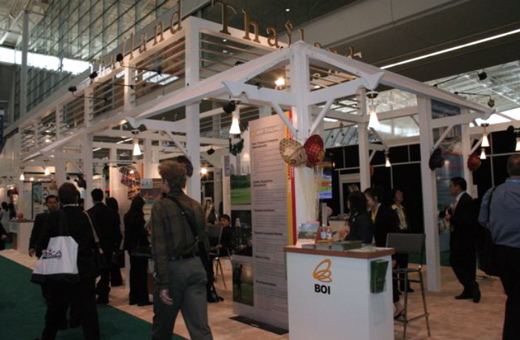 Picture: Thailand booth at BIO 2007





But Thailand's visit to Boston extended far beyond the BIO meeting. It involved meeting with Genzyme and a well-attended tour of Genzyme's 200,000 square foot Allston production facility, which completed construction in 1995-96 and would currently cost about $500 million to construct. It included a Thailand Science Park organized "Thai Biotechnology Business Development Delegation" led by Dr. Janekrishna Kanatharana, Director of the Thai Science Park, and including representatives from Thai biotech companies like Betagro, Better Pharma Co., Biotechnology Asia Co., Ltd, Hemotrans Co. Ltd., MED Laboratories Co., Ltd, NanoAsia, Ltd. Silom Medical Co., Ltd and Stem Cells for Life plus other members of Thailand's growing private biotech sector.


| | |
| --- | --- |
| | |
| Picture: A visit to Genzyme, the delegation was greated by Mr. Michael Kennedy of Genzyme and had a tour of the facility. | Picture: From left, Mr. Satit Chanjavanakul - Secretary General of the Thailand Board of Investment(BOI) thanked Mr. Kennedy, while Mr. Chris Runckel, President of Runckel & Associated looked on. |



Picture: Thailand Bio Business Development Delegation at Genzyme. Dr. Jenekrishna Kanatharana, Director of Thailand Science Park is seen on the right of Mr. Kennedy.




Additionally the Minister visited the Broad Institute; met with Thai students to encourage them to focus on Science in an evening talk titled "A New Age for Science and Technology in Thailand," a presentation titled "Sufficiency and Competitiveness: S&T in Thailand" at Harvard University Kennedy School of Government plus many one-on-one interviews with major publications and meetings with leading policy makers.






The Minister can be justly proud of Thailand's growing bio industry but he is in no way signaling that he doesn't see more room for improvement. As noted earlier, Thailand's number of bio-businesses has doubled in the last few years from 50 to 100. The Minister has set out a further goal for an additional doubling on the current number prior to opening of the new addition to the Science Park in 2009. He also has set out goals to do more on increasing the numbers of PhD- level researchers in Thailand as well as other measures.



Picture Left: Chris Runckel, author and President of Runckel & Associates is thanked for his support by the Minister.







Be assured, based on Thailand's performance to-date, Thailand will be gaining added stature in the years ahead and is far from resting on its laurels.




For more information on Thailand's Biotechnology Delvelopment,

click here
---
About the Author:
Christopher W. Runckel, a former senior US diplomat who served in many counties in Asia, is a graduate of the University of Oregon and Lewis an Clark Law School. He served as Deputy General Counsel of President Gerald Ford's Presidential Clemency Board. Mr. Runckel is the principal and founder of Runckel & Associates, a Portland, Oregon based consulting company that assists businesses expand business opportunities in Asia. (www. business-in-asia.com) Until April of 1999, Mr. Runckel was Minister-Counselor of the US Embassy in Beijing, China. Mr. Runckel lived and worked in Thailand for over six years. He was the first permanently assigned U.S. diplomat to return to Vietnam after the Vietnam War. In 1997, he was awarded the U.S. Department of States highest award for service, the Distinguished Honor Award, for his contribution to improving U.S.-Vietnam relations. Mr. Runckel is one of only two non-Ambassadors to receive this award in the 200-year history of the U.S.diplomatic service.


---