---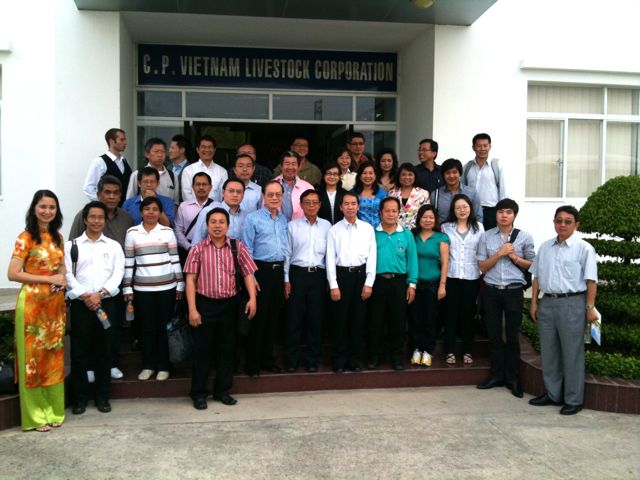 Picture above: A recent trip arranged by the Bangkok Bank.
The group spent one whole-day in Binh Duong, Vietnam.
Picture taken at CP factory in My Phuoc industrial park run by Becamex.
Quality of customer experience can make or break any business – and for those that travel to Vietnam to look for investment, it is even more important to Becamex, Vietnam's largest infrastructure and industrial park operator and a large conglomerate business entity headquartered in Binh Duong province, Vietnam. Becamex, owns many businesses and oversees the building of Binh Duong's New City, where they have long set a goal of giving their customers the experience they are expecting and beyond.






Picture left: Becamex new Headquarters in Binh Duong, Vietnam.

Picture right: Road to Binh Duong, one-hour drive from Ho Chi Minh City.



Due to higher production costs in Thailand, largely from the strengthening baht, and higher domestic wages; Thai businesses think more aggressively about investing overseas, especially in neighboring countries, notably in Vietnam, Laos, Cambodia, Indonesia, China and Burma. To many, overseas investment is new to them; while some may already have their foot in the neighboring countries markets for many years, but want to change their business structure in order to be more prominent in their existing market. Being in a foreign land, trying to do market studies and avoiding risk of mis-steps can be quite stressful for Thai businesses. Becamex realizes the importance of their customer's experience and has offered unique support and warm hospitality to help facilitate Thai businesses in their endeavors. In a Bangkok Bank business group's visit to Binh Duong recently, Becamex teamed with Bangkok Bank to offer business coaching, extensive information on investment in Vietnam, tour of their facilities, visits to office/shops rental space, industrial and residential areas and lastly a business matching session - a concept that will contribute to winning the future for Binh Duong, a province approximately one-hour drive northeast of Ho Chi Minh City.

Business Trip to Vietnam

A recent trip to Binh Duong province on April 7, 2011 of the Bangkok Bank business group proved the above concept true. The bank started their program with a business seminar to brief their customers on Vietnam investment at the bank's headquarters a month before the trip.






Picture above: Chris Runckel, speaker


| | |
| --- | --- |
| Picture above: Vietnam business seminar at the Bangkok Bank's Headquarters in Bangkok | Dr. Christopher Runckel, a former senior US diplomat who has a long history in Vietnam and SE Asia and lived and worked many years in Vietnam and Asia and is advisor to Becamex IDCorp., and his wife khun Soraya, joined the seminar and presented in Thai language facts and numbers comparing investment in Vietnam to Thailand and China; advantages and challenges in investing in Vietnam, and so on. They answered many questions from the participants, for example, types of business that would do well in Vietnam, differences and benefits of joint venture vs. representative office, why Vietnam?, why Binh Duong? etc. The information was welcomed by all. |
The seminar then led to a business trip to Vietnam arranged by the bank, in which during the one month period between the seminar and the trip, Becamex's advisors coordinated with the bank and their customers in making the one-full-day visit to Binh Duong more fruitful. The coordination included checking the customers's purpose of the visit in order to provide related information targeted to the customers' interests and objectives.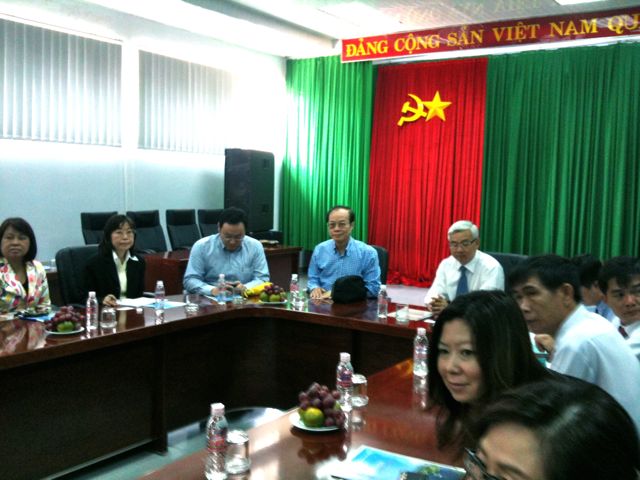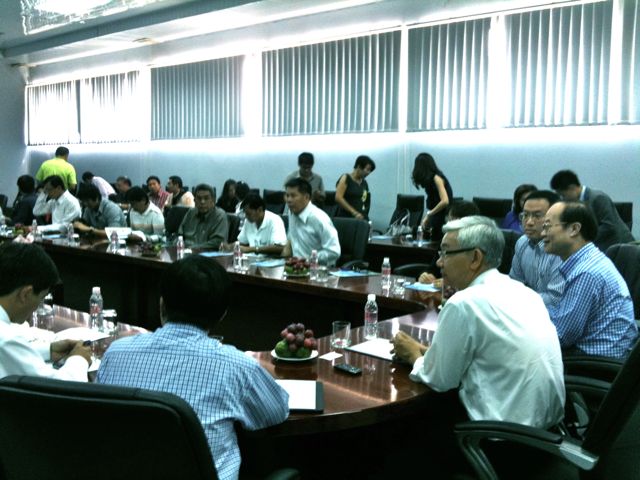 Pictures above: Welcome event by senior authorities of Binh Duong province and Becamex Corp, followed by presentation and a productive Q&A session.


Binh Duong, with its close proximity to HCMC, has been a manufacturing center and top province for South of Vietnam for many years. Its new township, expansion of industrial park areas, residential areas, university, hospital and entertainment areas have created new markets and opportunities for Thai businesses. In the past, its development zone has brought in many large-scale investments from Thailand such as CP (which opened its door for the bank's participants to visit this trip), Siam Cement Group, etc. Binh Duong has also welcomed Thai SMEs and currently there are some new established factories such as Thai food business and others that now call Binh Duong their new market.

"Our Bangkok Bank's branch in HCMC has been in operation in Vietnam for 19 years and we've already assisted our clients to set up their production plant for more than 100 plants", said Mr. Tharabodee, General Manager of Bangkok Bank in Vietnam. The bank's Vietnam knowledge is unmatched by any banks in Thailand. He has provided useful information for many Thai companies, such as repatriation of profits, procedures in investment, etc. The Bangkok Bank also has another branch in Hanoi, capital of Vietnam.



A New "Pudong" of Ho Chi Minh City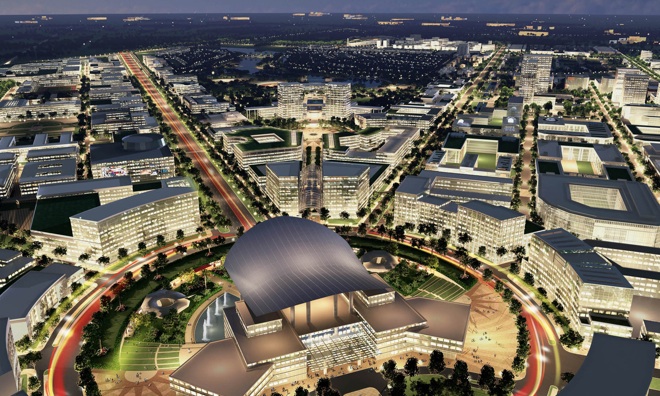 Picture above: Binh Duong's New City (for 5 min video, click here)

With the building of Binh Duong's New City, the province is becoming more and more open and international. Business activities are increasing with rapid expansion. For example, The Eastern International University (EIU), a brand new international university with a western standard campus in Binh Duong, is opening to student enrollments this year - currently 5 universities in Binh Duong are already training and sending new companies well qualified staff. For exhibitions and convention business, Becamex Corp. opened its "Lucky Square", a wedding and convention center in Binh Duong new city just last month. The company has welcomed and is familiar with Thai investors for many years and has appointed Becamex Thai representatives to Thailand to facilitate Thai understanding and ease of investment in Binh Duong.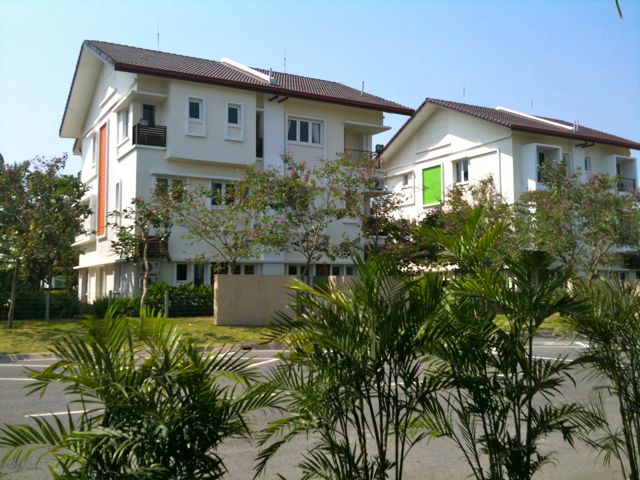 Pictures above: Besides shopping center, office rental space and entertainment areas, the New City offers residential quarters with Western-standard living houses for rent.
Pictures show the group viewed model of residential area plan and a sample house.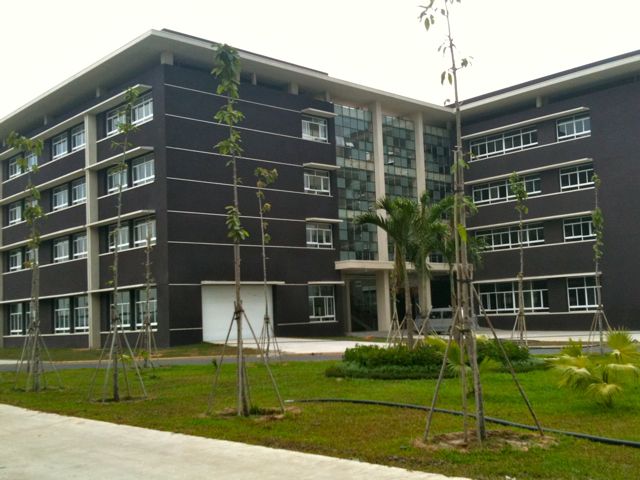 Pictures above: The Eastern International University (EIU), a new international university in Binh Duong New City that has Western-standards campus and curriculum. It is part of the 5 universities and 2 colleges in Binh Duong.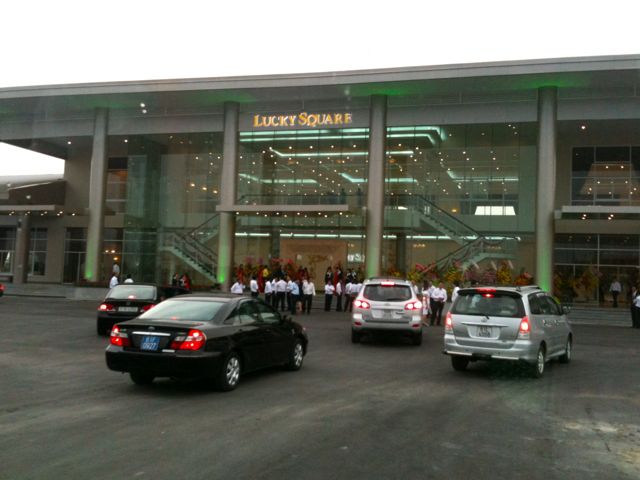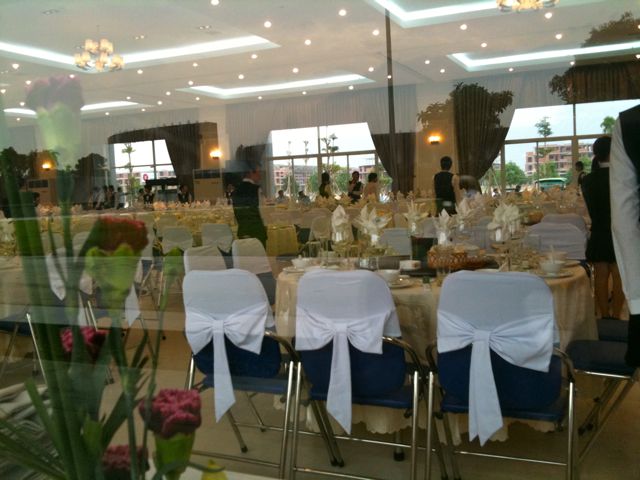 Pictures above: Becamex's new Convention and Wedding Center, "Luck Square", inside the New City
- just opened in March 2011. The Center has been welcomed by the local and HCMC communities.

"We've always concentrated on the client's satisfaction, the professionalism and friendliness of our staff, the exceeding of expectations and view to creating a long-term successful relationship", said Mr. Dien, VP and Director of Marketing for Becamex who has visited Thailand many times and has worked with Thai professionals in many fields in planning for Binh Duong New City.

Christopher Runckel, senior advisor to Becamex commented that, "I think it's also important to remember that the customer experience doesn't end with the clients departure after a visit, Becamex follows up and provides substantial information to their potential clients before, during and after the visit. This is a truly a professional approach".



Business Matching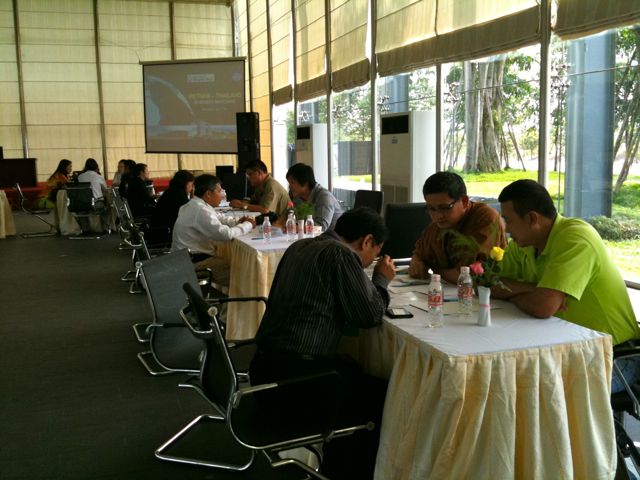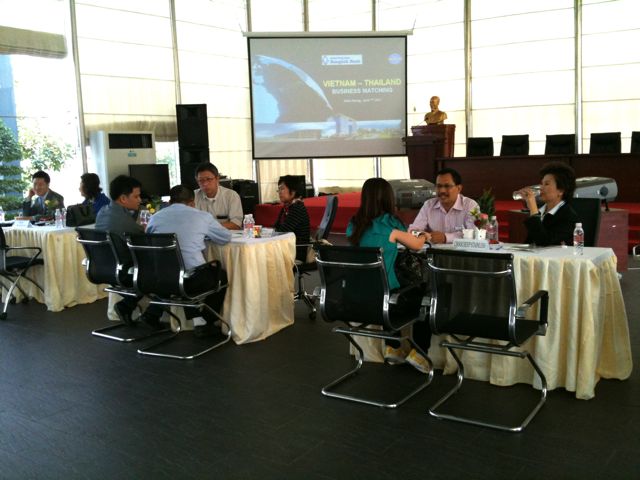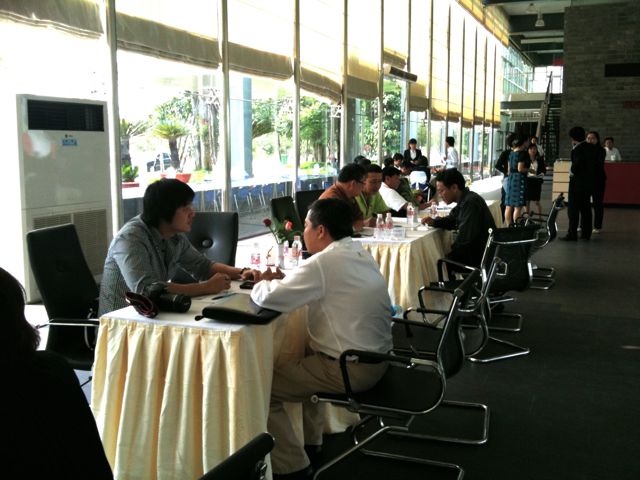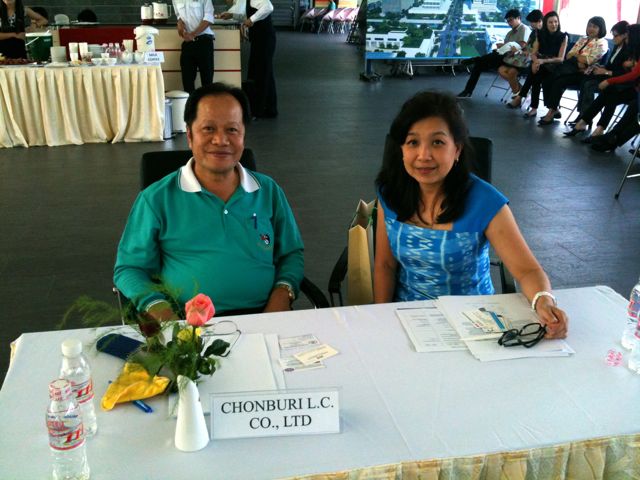 Picture aboves: Business Matching session during the visit to the New City. Above right: Mrs. Soraya Runckel, helps Becamex in coordinating the business matching between Thai and Vietnamese companies.

Businesses that will do well in Binh Duong are supporting industries, food, animal feed and medicine, hi-tech, packaging, and other low labor intensive categories. High labor intensive industries, such as garments and textiles, which target very low wages, usually go to provinces in the central part of Vietnam, for example. The Vietnam's Southern Key Economic Zone (SKEZ), which includes HCMC, Binh Duong, Dong Nai, Ba Ria-Vung Tau, Binh Phuoc, Tay Ninh, Long An and Tien Giang provinces are hubs for trade and manufacturing with a higher minimum wage than in the Central area. However, it is this area in the South where the consumers are and headquarters of banks and related supporting businesses. Collectively over one-half of business for the whole country is focussed in this southern area which is expanding more quickly than other areas.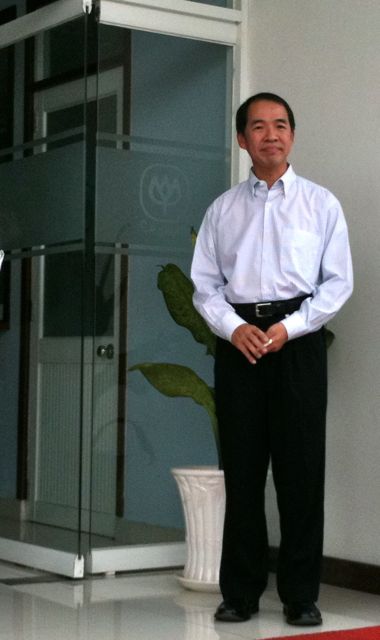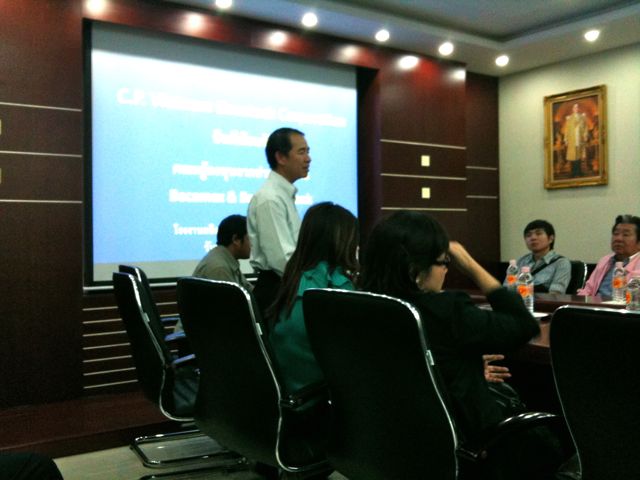 Picture aboves: Mr. Suwes Wangrungarun, Senior Vice President of CP Group for Vietnam, speaks to the group during the visit. CP Group has a factory producing animal feed inside My Phuoc Industrial Park.

Becamex further extended its support to Thai investors not only in the companies targeted industries. It was the first trip that had involved the Bank and their advisors having contact and seeking to know what the travellers are trying to find out; then arranging for a business matching session and for sessions in which Thai restaurant, retailers and other service industries were able to research and meet potential partners who may in the future become agents, distributors and sales assistants for the Thai companies.




Contact Becamex



Interested companies to invest in Binh Duong, please contact: BecamexThailand@gmail.com and visit website: www.Becamex.com.vn/en/






---